October Featured Farmer: Emily Anderson, Building a Foundation for Successful Future
Posted: 10/3/2016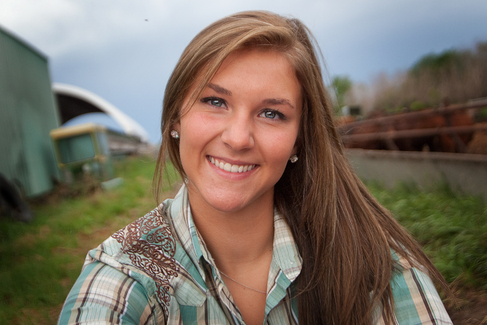 Emily Andersen is combining the experience and love for animals she developed on her family's farm with real world internship experiences and top notch education to prepare for a career in agriculture.
Emily works with her parents, Craig and Gail Andersen, and older brothers Tyler and Jacob, to care for pigs and cattle and raise corn, soybeans, alfalfa and winter wheat on the Centerville farm that has been in their family for more than 130 years.
"We all helped on the farm since we could walk, we always wanted to be with our dad in the tractor, or helping with the animals," she said.
Emily is currently a junior at South Dakota State University in Brookings with a major in Animal Science and minors in Agricultural Business and Agronomy. Beyond the classroom, she is using internships and work with state associations to get a broader perspective on the pork industry and agriculture in general.
"At our farm, we raise pigs from about 50 pounds to market weight, so I've really looked for internship opportunities where I can learn about the entire chain of pork production," she said. "I'd eventually like to return to the farm and want to get as much experience as I can and bring that back to our operation."
In 2015, she interned with Kerber Milling Company Hawkeye Sow Unit at a farrowing barn where sows are housed, and piglets are born and raise to about ten to fifteen pounds. She gained experience in the special care needed for sows and for young piglets, from the farrowing (birth) process itself and making sure that baby pigs are healthy from the start, including vaccinations to build strong immune systems.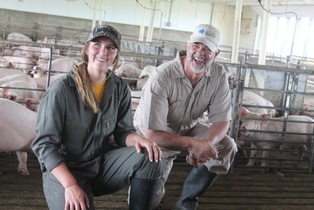 Emily and her father, Craig, working with pigs on the family farm.
"Being involved with the pigs from the very beginning – when they are born – was a great experience that helps me to provide better care at every stage of their lives," Emily said.
This summer, she completed an internship at with Smithfield in Sioux Falls as a hog procurement intern. She worked in a number of roles, from helping unload hogs at the processing plant to reviewing paperwork and approving payments to producers. She also attended producer meetings and the World Pork Expo in Des Moines.
Emily is also gaining valuable experiences as one of two 2016 South Dakota Pork Producers Youth Ambassadors chosen by the South Dakota Pork Producers Association. In her ambassador role, she works with association staff and represents the state's pork producing families at a number of events across the state, including the South Dakota State Fair, Taste of Elegance programs, and promotions at grocery stores.
"I've enjoyed learning about the promotion and education side of pork industry and answering questions from people about how we care for our pigs," said Emily. "The ambassador program is a great way for the next generation of farmers to get involved at a young age and understand the questions that today's consumers have about what we do."
Emily is a member of the Swine Club at SDSU, and is excited about new facilities completed this fall at the university that will provide improved learning opportunities and research capabilities for students and staff. A $6 million Swine Education and Research Facility was dedicated on October 1 and includes three new barns as well as on-site classroom, research, and lab spaces. There is also a raised observation area with glass windows that will allow students and visitors a firsthand view of breeding, gestation and farrowing rooms, all while maintaining the barn's biosecurity.
"The new barns and classrooms will be a good addition for school and students, and will give everyone more opportunities for research and advanced programming," she said.
Emily knows it is difficult to predict the future and what role she might be able to play in her family's farming business, especially given uncertain nature of commodity and livestock markets. However, she is confident that the experiences she is gaining now will give her the tools she needs to prepare for a career in agriculture and food production, whatever form that might take.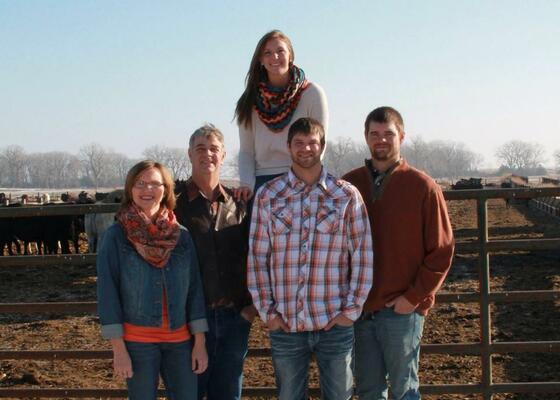 Emily and her family on the farm.