NorSwiss Dairy, March Featured Farmer Profile
Posted: 2/1/2017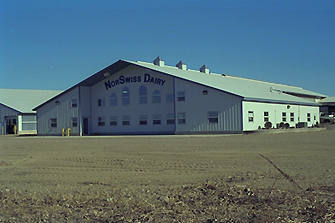 The opportunity to run their own business in rural South Dakota led John and Annelies Seffrood to leave jobs in suburban Chicago to build a new dairy farm from the ground up nearly 20 years ago. The Seffroods and their 20 employees at NorSwiss Dairy now milk 1,200 cows and produce milk that is processed into cheese enjoyed by families around the country.
John grew up as a "Pastor's son" in central North Dakota. Uncles on both sides of his family milked cows in Wisconsin. Annelies, raised in Milbank, SD, is the granddaughter of Alfred Nef, cofounder of Valley Queen Cheese Factory. Her father gave them the idea to build a dairy farm to supply the cheese plant. Dairy farming gave Annelies and John the opportunity to start from scratch and operate their own business near Summit, South Dakota.
"We were ready to start a family and decided that the suburbs were not where we wanted to live with our children. We both liked the idea of returning to a rural, small town setting," she said.
They began construction in 1998 and started milking 200 cows in the new parlor and barns in 1999. The farm was originally built for an 800 cow herd, and has been expanded over the years to fit their current 1,200 cow herd. They also raise feed for the dairy — primarily alfalfa hay and corn silage — on about 1,300 acres.
"I was a high school math teacher and coach and John was an assistant plant manager for a chemical company. He brought an understanding of equipment, how to build the dairy, and the systems we needed, and I was a good fit for the financial, record keeping and human resources functions," said Annelies. "However, we knew we were missing someone with hands-on experience with cows and dairy farming."
The Seffroods were fortunate to be connected to a dairy farmer who lived ten miles from where they were planning to build the dairy who had recently sold his 30-cow herd. Craig Wiste became the third part of the team and has been herd manager at the dairy for 19 years.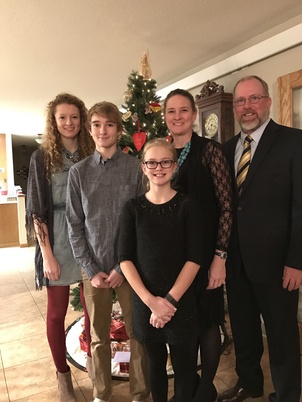 "The three of us learned a lot in a hurry," said Annelies. "We relied a lot on research we did on the internet, and it was even dial-up internet in the beginning days! We also surrounded ourselves with experts. We still use Dr. Joseph Sousa of Dakota Valley Vet for our herd work and Paul WIndschitl, PhD as our nutritionist."
The first priority for NorSwiss Dairy was to build barns and facilities that would keep both cows and people comfortable in all South Dakota weather conditions. Summit got its name because it is the highest elevation on the railroad line between the Berkshire Mountains in Massachusetts and the Rockies in Montana. At 1,900 feet of elevation, compared to 1,400 feet in Sioux Falls, their growing season for crops is a closer match to Fargo, North Dakota than nearby Watertown said Annelies.
"The climate-controlled barns protect the cows from cold in the winter and provide fans and sprinklers on hot days in the summer," she said. "Our goal is to keep cows happy and comfortable whether the temperature is negative 20 in the winter or 95 degrees in the summer. Being located near Summit, the negative 20 happens more frequently than the 95."
Another priority for the Seffroods is keeping a strong employee base, with half of their employees who have worked at NorSwiss Dairy for five to ten years or more.
"South Dakota has an incredibly low unemployment rate, and just like any small business with 20 employees, it takes a lot of effort to stay fully staffed," she said. "We provide full benefits including group health insurance, a retirement plan and paid vacation, as well as onsite housing for employees and their families."
She noted that they have to offer wages that are not just competitive with other dairy farms, but with manufacturing and other jobs in the area.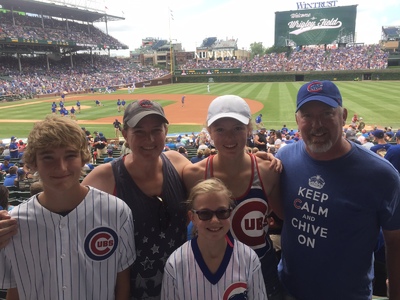 Annelies and John have three children: Sophia is a junior in high school, Sam is a freshman, and Elsie is in sixth grade.
The Seffroods also work to share information about their dairy farm, including participating in the National Ag Day classroom visits with Ag United for the past seven years. Annelies shares information about their farm and the students enjoy a pizza party featuring dairy and pork products.
"In just seven years, I've seen a shift in the number of students who live on or have close family members living on an active farm," she said. "Even in small towns and rural areas, there are fewer kids who have a direct connection to agriculture. They may drive by it every day, but aren't directly connected."
Annelies was appointed to the American Dairy Association of South Dakota board in 2015 and also serves on the Midwest Dairy Association South Dakota Division Board, which oversees dairy checkoff activities in the state. She also coaches youth basketball in the area, bringing her background as a coach. She is active with their church serving as treasurer.
After 19 years of operating their dairy farm, the Seffroods would do it all over again and are proud of their role in bringing nutritious dairy products to consumers.
"When farmers say they want to grow food to feed the world, it really is true," she said. "When I meet people anywhere in the country, I can tell them that if they eat Kraft low-fat cheddar cheese, there is a good possibility that milk came from my cows. It gives them a connection to where the food came from."
To take your own video tour of a dairy, check out this Hungry for Truth video.