Posted: 10/31/2014
National FFA Convention
By: Rebecca Christman
10.31.14
This week, the annual National FFA Convention is being held in Louisville, Kentucky. Hundreds of South Dakotans are traveling by car, bus and plane to join 50,000 FFA members from across the nation to this premier event. And, there are tens of thousands more FFA alumni like me who will be there in spirit, knowing the value that this leadership organization brings to individual students and agriculture in general.
Each person has their own reason for attending the national convention, but for every member this is ultimate FFA experience. Students competing in Career Development Events won their state competition and have since spent hundreds of hours practicing speeches, judging livestock, and memorizing plant names. Others have spent time turning their hobby in to a profitable business and are looking to be recognized as the best Supervised Agricultural Experience in the nation. Some are just going for the experience, to listen to speakers, volunteer their time, and learn more about future opportunities in agriculture.
I was fortunate enough to attend National FFA Convention six times throughout my high school and college career.
Each time I traveled for a different reason and each experience was unique. As a freshman in high school, I traveled on the state bus to Louisville, Kentucky. This was the first time I was exposed to all of the opportunities within FFA. I went back to National Convention as a high school senior, and this time I played saxophone in the National Band in Indianapolis. I traveled to Indianapolis each year of my college career. I was a State Officer and voting delegate, received my American Degree, ran for National FFA Office, and finally came back as an advisor while completing student teaching. Needless to say, National FFA Convention holds a special place in my heart.
Last Monday I had the opportunity to visit SDSU and help South Dakota's National Officer Candidate, Kelli Gary, with a few last minute preparations. The National FFA Convention is this week in Louisville, Kentucky. Kelli flew to Louisville on Saturday to begin the process of interviewing to be a National FFA Officer. If elected, Kelli will spend the next year traveling the country meeting FFA members, talking with ag industry professionals, and representing the National FFA Organization.
The National FFA organization prepares students for "premier leadership, personal growth, and career success." More than that it helps students find passion. A passion for agriculture, a passion for science, a passion for service, are all qualities that can be developed and nurtured through FFA. This week we are sending well wishes and safe travels for all those traveling to Kentucky for FFA. Work hard, learn something new, and don't forget to have fun!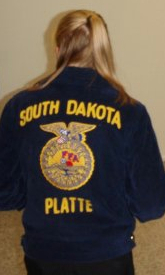 A lot of memories started with this jacket!