Posted: 3/14/2016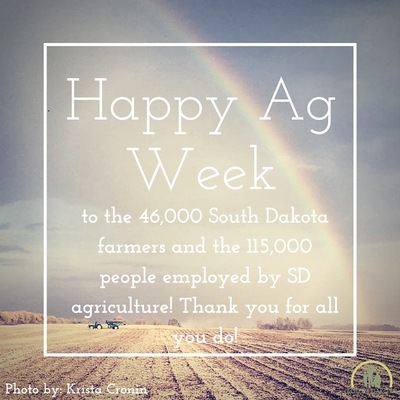 This week is our favorite week of the year at South Dakota Farm Families. We are celebrating National Ag Week!
To celebrate our state's farmers we will be visiting fourth grade classrooms. A dairy and hog farmer will talk about what they do on their farms, and how the ingredients from their farm get to the student's plates in the form of pizza. After the presentation we'll have a pizza party!
This Friday and Saturday, we'll be Ag Day at the Pavilion. Children will get to make Total Mixed Ration snack bags, with the ingredients representing what a dairy cow eats. Admission is free and a free lunch will also be provided.
If you're not able to make it to any events in person you can also join the celebration virtually! All next week we'll be giving away prizes on Facebook, Twitter, and Instagram! Follow us for updates on National Ag Week!
This week join us in celebrating our state's 40,000 farmers and ranchers. Happy Ag Week!
Listen to this week's radio segment here: FARMERS_DAUGHTER-MARCH_14TH.mp3