May Featured Farmer: Shane Odegaard
Posted: 5/15/2023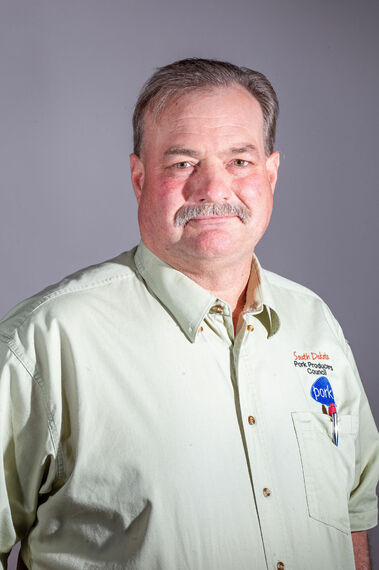 Spring is in the air across South Dakota, with temperatures warming and snow melting.  As homeowners look forward to planting and caring for their lawns, farmers and ranchers are also gearing up for a new growing season.
Shane Odegaard and family members at Odegaard Family Farms near Lake Preston, South Dakota, are planning and preparing equipment for planting corn and soybeans and are busy with calving season for their beef cows.  The family cares for pigs on their farrow-to-finish pork farm year-round, raising pigs from birth until they are ready for market.  In addition, they have a contract nursery barn where they raise pigs from about 15 pounds to 60 pounds.
Shane Odegaard is a partner in the family farming business along with his brothers Justin and Shaun, uncle Randy and cousin Michelle Kooima, and her husband Heath.  His mother, Sharon, is retired, but remains a partner in the operation.  The business was incorporated in 2005, bringing together two partnerships into one after the unexpected death of Shane's father and brother in a farming accident.
Each family member is responsible for an area of the farm, from raising corn and soybeans, managing the on-site feed mill, or work in the contract nursery or sow farm and finishing barn.
"Everyone has their own expertise, but during busy times like planting and harvest, it is all hands on deck, and we help wherever we can," he said.
The family's business has evolved over the years, and so has the technology and practices to make them more productive and sustainable.
"Sustainability can mean a few different things," said Odegaard. "It starts with being profitable so that the farm can continue into the future.  It also covers all the things we do to conserve energy, water and other resources." 
Odegaard noted a number of changes they have made in pig barns to be more energy efficient as well as provide better care for the pigs.  Raising pigs in wean-to-finish barns reduces the number of times animals are transported and newer feeders allow 24/7 access to water and feed, but minimize the amount of spilled or wasted water.  In addition, manure from pig barns is a valuable fertilizer asset, reducing the amount of commercial fertilizer they purchase.
"It is a benefit for our carbon footprint and the soil," he said.
New technologies are also allowing the Odegaards to conserve costs and be more productive in raising crops.  Equipment on planters and sprayers allow them to vary the rates of fertilizer or seed in different areas of a field, and automatic shutoffs prevent overlapping or overapplying products.  This ensures that only the right amount of each product is applied where it is needed most.
Odegaard has been involved in a number of community and state organizations, including serving as president of South Dakota Pork Producers and on the Ag United board of directors. He is currently serving on his local development corporation, looking to bring businesses and industry to the community. 
"Getting involved at any level is important – whether it is small scale or at a state or national level — to give back to organizations that helped you succeed," he said.
Shane has four daughters.  Ashley is a nurse and married to Ethan who farms with his family.  Danielle is a freshman at Northern University, Callie is in eighth grade and Emsley is in sixth grade. 
He is excited about the future of agriculture and opportunities for the next generation, especially in livestock production, noting the diversification of pork farms across the state.
"Some are farrow-to-finish like we are, some have invested in a cooperative sow farm where they receive a certain number of weaned pigs each year, and some are contract growers who build a barn and raise pigs on contract," he said. "Many families and young producers are finding that raising pigs and contract growing has provided a way for the next generation to come back to the farming business."