March Featured Farmer: Travis Mockler
Posted: 3/21/2023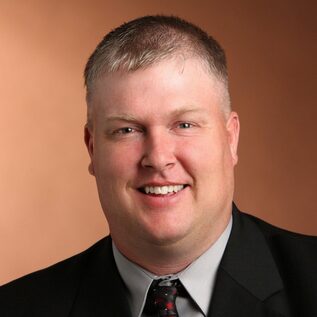 Travis Mockler and his wife, Jill, raise corn, soybeans, alfalfa, oats and wheat on their farm near Centerville, about 15 miles north of Vermillion. They also raise beef cows and calves that are born each fall.  They have two daughters: Lacey is a freshman at South Dakota State University and Kylie is a sophomore at Beresford High School.
Mockler grew up east of Vermillion and after attending college he worked for area farmers for about 10 years before he and Jill purchased their own farm in 2004. Over the past few years, they've started farming together with her father and brother to share labor.  Jill leads the business banking team at First National Bank in Sioux Falls in addition to her active role on the farm.
He is currently in his 12th year on the board for South Dakota Corn Growers, having served a nine-year term and rejoining the board three years ago.  He also serves on the board of directors for Ag United for South Dakota.
"Farmers and livestock producers need to be part of the conversation, especially as we make up a smaller portion of the population and people are three and four generations removed from living on farms themselves," said Mockler, noting that farming practices and technologies are always changing and it is important to keep sharing information.
Over the years, Mockler has added a number of precision agriculture technologies to his farming operation to allow him to be more efficient and precise when planting or applying fertilizer.
"Every field I have is set up on a grid sampling system, which allows us to measure the nutrients in the soil and understand what it actually needs to grow a productive crop," he said.  With technology on planters, Mockler can adjust the number of corn seeds and amount of fertilizer depending on the type of soil in each part of the field.  It saves the cost of over-applying fertilizer and seeds and is also better for the environment.
He has also made changes in raising beef cattle, switching from spring calving to fall calving several years ago.  Calves are born in August or September instead of early spring. 
"There are fewer issues with weather during calving season, in fact sometimes we're more worried about heat than cold for the cows at that time," he said. "The calves are up and running quickly in the fall, too."
He has also served as a member of the Clay County Commission for 11 years.
"I originally ran for county commission after a number of conversations with friends I had graduated high school with who commented that they would love to move back to the area to raise their families, but there were no opportunities.  I realized that would be the future my kids would see and wanted to be part of making sure opportunities would be available," he said.
Looking to the future, he is excited about the opportunities for agriculture in Clay County and across the state.
"My daughter commented the other day that 'this is where I want my kids to be raised,' which is one of the most rewarding parts of farming and raising a family here," said Mockler.