March Featured Farmer: Adam Prunty
Posted: 3/1/2016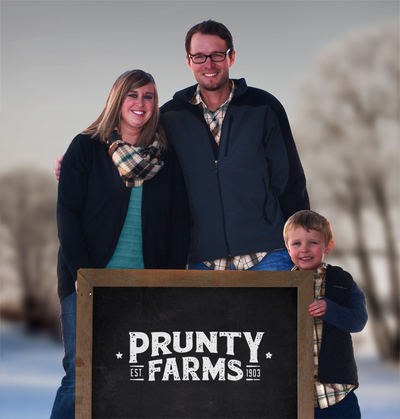 New technologies are allowing today's farmers and ranchers to do things they never imagined. From using variable rate seed planting and fertilizer application to get the most of every acre of land, to being able to better track the diet and behavior of livestock, technology is helping farm and ranch families better manage their businesses and care for their land and animals.
Some farmers are also using new technologies to share the story of their farm with consumers. Adam Prunty of Prunty Farms near Hartford, South Dakota, is using a drone and his graphic design and video production talents to do just that.
Adam is a fifth generation farmer who raises crops and cattle with his parents, Dan and Cheryl Prunty. They raise corn and soybeans and alfalfa one about 1,200 acres. They also have a cow herd, raising about 300 cows who typically calve in May. His sister and brother-in-law work off the farm, and help when they can during harvest, planting and working with cattle.
He grew up helping on the farm and after high school started working at a video and graphic design company. When Adam's grandfather was ready to retire, Adam joined the family's farming business as well. He continues to do freelance design work when time allows. Adam and his wife Amber have a four-year-old son and are expecting another baby in July.
The combination of his passion for agriculture and creative talents can be seen in videos posted on the farm's Prunty Farms YouTube channel as well as photography on their Facebook page.
Adam uses a drone to record footage of farm and field activities, then posts to share with subscribers. He has shared footage showing rolling round bales of hay and beautiful harvest scenery, but captured the most attention with a holiday video in December.
After receiving 10 inches of snow in December, Adam and his father teamed up to "write" a special message. They drove the tractor across two acres of land so the tracks spelled a cursive "Merry Christmas" in the snow. Watch the video here.
The video went viral, attracting new social media followers and newspaper, television and radio coverage.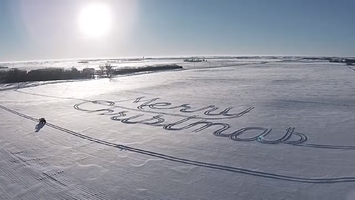 "It was amazing. Our Facebook followers went from about 200 to more than 2500 in just a couple weeks, and the YouTube views went from zero to 1.5 million," said Adam.
He sees the interest in his site and other farm's social media outreach as positive for both agriculture and consumers.
"I think it is great that people are having more interest in where their food comes from and how it is produced, and it is a good opportunity for farmers to share what we do every day to produce a safe food supply," he said.
Adam began taking still photography about a year ago, and is especially interested in astrophotography to capture images at night. Great examples are photos taken during corn harvest and soybean harvest this fall, although he also finds time to capture shots of life on the family farm as well.
As winter winds down, Adam and his family are preparing for spring field work and calving in early May.