Local Foods Around the World
Posted: 8/14/2017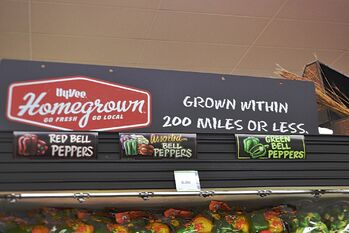 HyVee defines local as 200 miles or less. 
What does the term "local food" mean to you? Here in South Dakota, we have 30,000 farmers producing food locally with thousands more in the surrounding states. On average each of these farmers produces food for 155 people. That means in South Dakota alone, our farmers grow enough food to feed nearly five million people! South Dakota's population is about 865,000, meaning our farmers are feeding the families of our state, and families around the world. Our local foods are consumed worldwide.
So how do you know if what you are eating is locally grown? Sometimes it's easy. There are entire sections at the grocery store dedicated to selling local produce. Restaurants will often share where they purchase their meat. Foods in the store may be labeled with a "grown in the USA" sticker. However, these are not the only foods you eat that are grown and processed locally.
In South Dakota, we are producing and processing food that consumers buy on trips to the grocery store, and when they go out to eat. Many common brand names get their start right here.  Baby Bel cheese is packaged locally in Brookings, and purchases milk from area farmers. Dakota Provisions in Huron buys South Dakota turkeys and sends their product to places like Starbucks, Panera, and Firehouse Subs, among others. Valley Queen Cheese in Milbank can be found in the packaging of national brands such as Kraft. Smithfield Foods in Sioux Falls processes bacon, spiral cut hams, hot dogs, ribs and more. Their products can be found under names like Nathan's Famous Hotdogs, Cracker Barrel, Farmland and others. Dean Foods in Sioux Falls purchases milk from area farmers and packages and sells dairy products under names like TruMoo, Dairy Pure, and Land O'Lakes. They also package milk under store brand names like Great Value, HyVee, and Lynn's Dakotamart. Often products grown by South Dakota farmers end up right back on your local grocery store shelves.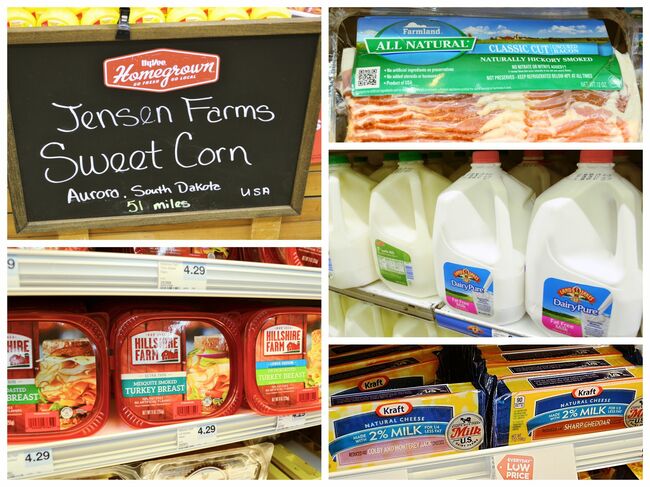 All of these products are grown by local farmers and processed by companies in South Dakota!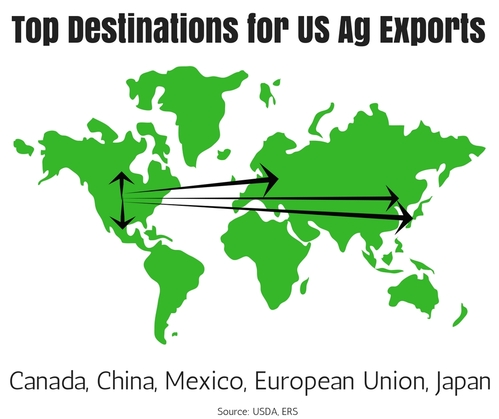 Products grown by South Dakota farmers not only end up in local stores, they also end up around the world. One of every three rows of corn and soy is exported. Japan, Mexico, and Columbia are the top three importers of U.S. corn. China, the European Union, Japan, Mexico and Taiwan are the top buyers of U.S. soybeans. Beef and pork cuts that are considered less desirable to Americans are considered delicacies in other countries. In an effort to ensure no part of the animal is wasted, meat processors will ship meat products to other countries where consumers will purchase them. International markets are just as important as our local ones.
We love supporting our local farmers, but we are also grateful for the farmers that are not local. These farmers bring us strawberries and oranges in the winter, fresh flowers to brighten up our homes any time of the year, and coffee to start every morning. In short, we are grateful for farmers everywhere.
Whether South Dakota products travel just down the street or to the other side of the world, our farm families and food processors put the same care into raising each animal and creating each food item. We're proud to say that our local foods can be found around the world.