Laura Kahler: Making the Best Better
Posted: 8/27/2018
Guest Blog Post written by Laura Kahler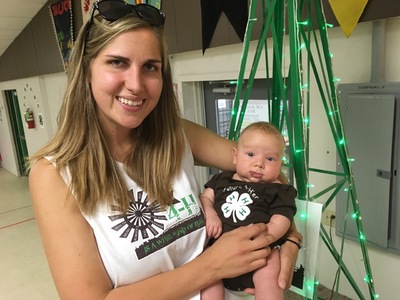 My future 4-H'er, Armin.
Growing up as the youngest of three siblings, I could not wait until I was old enough to have a 4-H back tag to wear as I exhibited my chicken at the county fair.  Despite the fact my rather unattractive chicken did not place well, I loved being able to show alongside 4-H members of all ages, and later join in as my brothers and I dug through receipts and filled in our 4-H record books.  Membership within the Wisconsin 4-H program provided me with never-ending activities and opportunities from the age of 8 through graduation.  Under the guidance of other 4-H families and volunteers, I learned about animal science by competing on quiz bowl teams, raising and showing an array of livestock species, and attending hands-on clinics put on by project leaders. As a member of the 4-H Teen Leaders, I discovered my passion for helping others learn.  Consequently, I chose to attend SDSU for Agriculture Education, with the intention of teaching high school agriculture or working with 4-H. Since graduating, I have been able to do both and currently work as a 4-H advisor in south central South Dakota. 
As a 4-H Youth Program Advisor, we work year round with youth to 'Make the Best Better' through programs and activities related to agriculture, leadership, healthy relations, and STEM (science, technology, engineering & math).  As summer approaches however, the focus shifts to preparing for an event 4-H is well known for; 4-H Achievement Days & County Fair.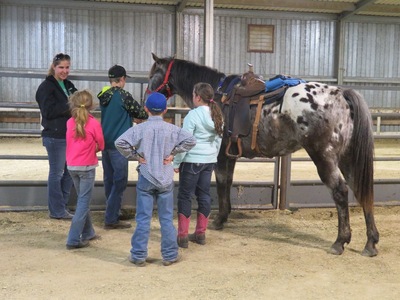 4-H'ers giving horse- related demonstrations to their peers.
Whether showing livestock or creating a display exhibit, participation in 4-H Achievement Days means much more than receiving a ribbon. In 4-H, members select topics that interest them from over seventy 4-H project areas.  While learning about that project area topic, 4-H'ers also gain responsibility, develop as leaders, learn more about themselves, and find a sense of belonging in their community. When you attend Achievement Days or a county fair, you will see all of these things taking place.  
This is especially evident amongst those who choose to participate in animal project areas.  In the spring of each year, 4-H'ers are asked to pick which animals they will be working with for their project.  Members with beef, sheep, swine and market goats can bring those animals to a county-wide weigh in, which allows youth to calculate their animal's rate of gain. Throughout the summer, 4-H'ers are invited to attend events on livestock selection, fitting and showing, and they work with their animals by providing proper nutrition, daily walks, and baths. As a result of their hard work, the show allows the animal to be presented to the best of their ability.  
Many 4-H members also choose to bring display exhibits to the fair.  Display exhibits provide a visual representation of what a member learned in their 4-H project area.  Some of my favorite display exhibits to see at Achievement Days include range plant ID books, chicken eggs, photography, baked goods, and visual arts.  One of the most exciting times of Achievement Days is when the members bring their exhibits in to the fair to be judged. Our communities are blessed with many dedicated 4-H volunteers, and during display exhibit judging we have many individuals who take the time to visit with the members about their projects, and provide feedback.  This is also a great opportunity for 4-H'ers to step out of their comfort zone by going through a brief interview with the judge and talk about their project.  
My husband, Brad, and I with a newborn calf on our ranch.
Perhaps the most telling evidence of the success of 4-H, and the significance of the community fair, is the 4-H alumni that can be seen at the fair each year.  Ranging from young adults to senior citizens, 4-H alumni serve in many roles, such as committee members, ring stewards, judges and parents. Although their showing days are over, they continue to be part of the 4-H community and help the next generation have a county fair full of learning, individual growth, and fun. 
Although enrollment is limited to youth ages 8-18, 4-H is a true community-based program.  4-H members learn from and with community mentors and volunteers throughout their year-long projects. Achievement Days and the State Fair are a chance for members to exhibit their hard work and celebrate their successes with others. This program benefits not only the youth who participate but also all those who witness and assist their learning process.  If you would like to be involved as a volunteer, or get your child enrolled in 4-H, contact information for your local 4-H office can be found at igrow.org. 
Laura also shared her love for 4-H on KELO It's Your Agribusiness. Listen to her segment here: 8.27.18 Laura Kahler 4H.mp3
Be sure to tune in each week at 10am on Monday's to hear the Farmer's Daughter radio segment!