Last chance to enter the Ag Week essay contest!
Posted: 3/11/2016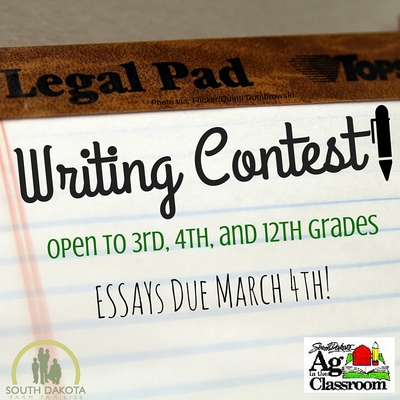 From bacon to honey and beef to sunflowers, South Dakota farmers produce many great products! This year for our Ag Week essay contest, South Dakota students have the opportunity to explore the many ag products that originate in our state.
With so many great ag products it might be hard to pick a favorite, but that's exactly what the elementary writers will do. The high school students have a slightly more challenging topic, as they have to create a new product that could be made in South Dakota. Both topics will challenge writers to learn more about agriculture and the products we produce in South Dakota.
National Ag Week will be here before you know it, start writing your essays now! The essay contest is open to students in third grade, fourth grade, and high school seniors. Elementary winners will receive a visit from a farmer and a pizza party! The senior winner will receive 250 dollars. Essays are due this Friday. For contest rules go to: https://agunited.org/news-and-events/south-dakota-ag-in-the-classroom-and-sd-farm-families-host-essay-contest/
Listen to the Farmer's Daughter radio segment here: SD_Farm_Families_-_Farmers_Daughter_March7th.mp3