Posted: 8/23/2016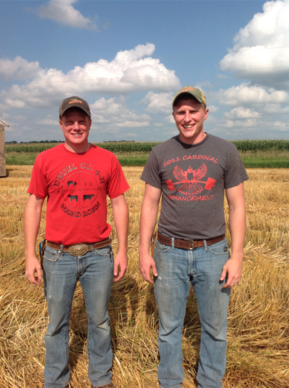 Adam and Brent Krause, owners of a new 3,600 nursery barn.
Summer is coming to an end, and so is our season for open houses at the farm. This week we are hosting our last open house of the year for a new hog barn near Clear Lake. This is an open house I am especially excited for, because the 3,600 head nursery barn is being built by Brent and Adam Krause, two young men that are fulfilling their dreams of returning to the family farm.
In South Dakota, the average age of a farmer or rancher is 57 years old. It's exciting to have 2 young twenty-somethings commit to farming for the next 20 years or so. The number of farms and farmers in South Dakota and across the nation has been shrinking for many years, while the population has been growing. Feeding these people is a job farmers take seriously.
Modern pig barns keep the animals out of the extreme hot and cold temperatures we have in South Dakota. The barns are climate controlled and well ventilated, so no matter their age or size the pigs are comfortable. The barns also allow the farmers to keep a close on their livestock, ensuring that each pig receives the care it needs.
We hope to see you this Thursday, from 5:00 – 7:00pm at the Krause Open House near Clear Lake. Free pork loin sandwiches will be served. The barn is located 3 and ¾ miles west of Clear Lake on HWY 22. Look for the big, red roof!
Did you miss this week's radio segment? Listen to it here! SD_Farm_Families_-_Farmers_Daughter_Aug22nd.mp3