Kelly Brandlee: Helping Farmers Share Their Story
Posted: 5/1/2018
Farmer's Daughter Guest Blog Post written by Kelly Brandlee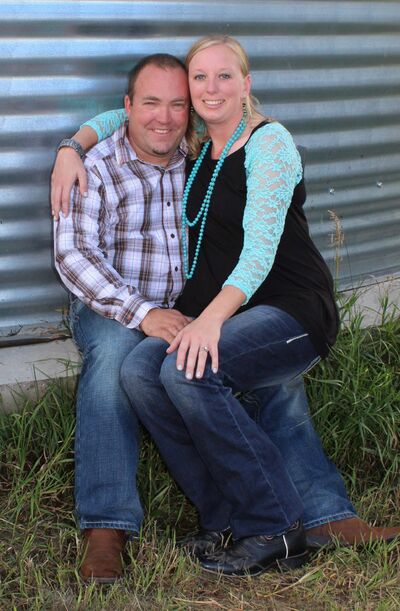 Kelly and her husband Clint.
I grew up on my family's farm near Salem, SD where we raised cattle, corn and soybeans. We also had horses that were used not just for 4-H and fun activities, but also to check cattle. Some of my favorite memories from my childhood includes my sister, dad and I riding horses to check cows and racing across the pasture while humming the Bonanza theme song. We also had plenty of quality time working cattle and helping dad with random projects around the farm.
During my time at South Dakota State University, I was not always sure what I wanted to do. However, early in my college career, I realized not everyone grew up like I did. Not everyone had the opportunity to experience farm life first hand. Therefore, not everyone had an understanding of where food comes from, how it is raised nor the hard work and passion those in production agriculture have for raising safe food.   
That realization lead me to my major of Advertising. I realized helping farmers communicate their stories was something I felt passionate about. I started my career with Ag United for South Dakota, where I helped farmers share their stories and answer consumer questions about today's agriculture, then spent some time working with soybean farmers in our state on several different farmer-focused projects. 
Eventually, I met my husband and moved to his family's fifth-generation farm in northeastern South Dakota. Spring is my favorite time on the farm. After a long winter, it is a welcomed change to see the grass turning green and the trees filling out with leaves. Spring means new calves to watch in the pasture and the start of a new crop year. On our farm, we raise cattle, corn, soybeans and hay. We also have horses, although we use them mainly for fun and use 4-wheelers for cattle work. 
This move started my journey with Riverview, LLP.  Riverview is a diversified farm, focusing on dairy, beef, and crops. I have the exciting job of working in the communities where we operate and sharing not just the Riverview story, but the entire story of agriculture. 
My role in Community Relations is almost never the same day to day.  Our Community Relations team works to connect young people with agriculture by visiting classrooms and hosting on farm tours and experiences. One day may find me talking to a group of second graders about how a cheeseburger is made, the next day working with a FFA group on a project, another day helping 4-H students pick out a calf as a part of our calf-lease program for youth, and yet another day promoting milk at a 5K race in town. The work is diverse and exciting!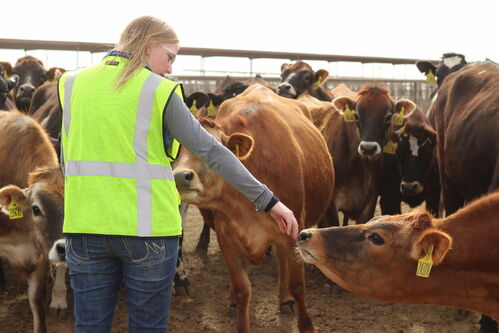 Farmers and agriculture organizations alike care deeply about their impact in their local communities and want to have open dialogue and communication with the public. I feel incredibly lucky to be a part of these conversations. 
Listen to "The Farmer's Daughter" radio segment each Monday at 10am on KELO 1320 AM or 107.9 FM. Check out Kelly's radio segment here: 4.30.18 FD Kelly Brandlee.mp3