July Featured Farmer: Young farmers look to build opportunities on family farm
Posted: 7/8/2016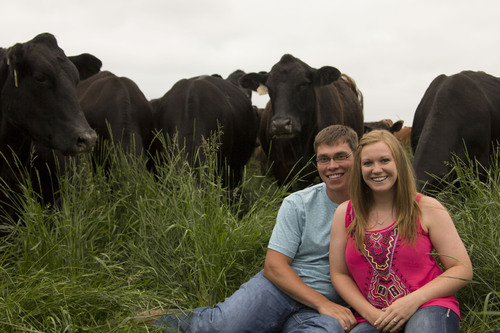 Making changes to a family business requires planning and communication, especially when it involves bringing in a new generation.
Chad and Rachael Weeldreyer were married in December 2014 and work together with Chad's parents, Ron and Sue Weeldreyer, on the farm where he was raised. They are the fifth generation to raise crops and livestock on the farm near Emery, about 30 miles east of Mitchell.
The family raises corn, soybeans, alfalfa, and beef cows. The beef calves are finished in two hoop barns. Rachael also raises bottle lambs and chickens. They both bring a passion for agriculture and sharing their stories about modern farming.
Chad and his brother and sister grew up helping his parents on the farm, and he began farming his own land when he was 18. He farmed part-time while in college at South Dakota State University, as well as when he served for eight years in the South Dakota Air National Guard, two of which on active duty. He also sold Pioneer brand seed in Emery after graduating from college. He made the transition to farming full time in 2012. Building the cattle barns in 2010 and 2012 were significant additions to the farm that allowed Chad to come back to the farm full time. They have about 90 cow/calf pairs and farm about 1,200 acres.
"Being blessed as the stewards of God's land and creation working alongside my wife and family is the greatest reward of living and working on the farm," said Chad. "I love to care for little calves and see the crops produce a bountiful harvest."
While the transition to full time farming has been rewarding, Chad said that is can be difficult for a young farmer to get established with the competition for limited acres.
"Increased regulation in livestock and crop production has led to more requirements for government approval for farming practices and has demanded more record keeping to show we are continuing to farm and raise livestock in a proper manner," he said.
He notes that lack of public knowledge about modern farming practices has created many misconceptions, including some activists that use social media and false advertising to paint today's farmers in a poor light.
"Without knowing the care and time the farmer puts into creating a safe and nutritious product for their table, people are quick to share negative and uneducated opinions which can have great impact on demand for our product," he said.
Rachael also grew up on a farm, a dairy farm near Anamoose, North Dakota. Her passion for sharing information and bridging the gap between farmers and consumers was sparked when she served as the North Dakota Dairy Princess in 2011.
"I realized the lack of education in the general public about farming practices, and I enjoy telling people about the dedication, hard work, and value of family farms," said Rachael" "It has been rewarding to see the increased appreciation of agriculture when visitors come to our farm for the first time."
Chad and Rachael are proud to be a part of the role that farm families play in South Dakota's economy, through ag related jobs, production inputs, value added products, and support of small businesses. They also are active in their community, serving as junior high and high school youth group leaders in their church.
Listen to Chad's radio interview at the 30 minute mark here!