July Featured Farmer: Schultz Brothers Dairy
Posted: 7/26/2023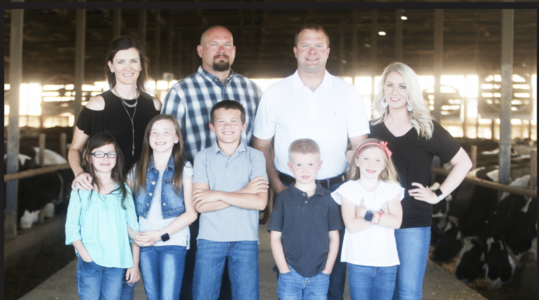 For more than 80 years, dairy farmers have celebrated National Dairy Month in June to celebrate the role of milk and dairy products in healthy diets and the impact of dairy farming on rural communities and economies. 
Schultz Brothers Dairy near Freeman, South Dakota, stepped up their June Dairy Month outreach over the past few years by partnering with processors and organizations to provide free milk and dairy products to community members.
The farm was started in its current location in 1981 by Mike and Vicki Schultz near the farm of Vicki's parents.  They grew to about 150 cows and began the first expansion of 700 cows in 2001 to allow sons John and Jeff to join the dairy farm after they completed their education at South Dakota State University.  John and Jeff are the third generation to operate the family dairy.
The family currently milks 2,200 cows and raises their calves and heifers.  They grow crops for the dairy on about 4,000 acres and also purchase additional feed from neighboring farmers. New and upgraded facilities over the years have helped them grow and carry out the family's farming legacy and support growth in their community. 
"We are glad we had to opportunity to return to the area and support our community.  We can now look ahead and give more family members the opportunity to return if they wish," said Vicki Schultz.  "We hope that our local processors and businesses in our area continue to also grow and benefit from what production agriculture brings."
They are currently expanding the farm's feeding area with a commodity building to store feedstuffs for cows.
Each family member has a role on the farm, and the next generation are actively involved in the farm as well as school, church and other activities.  John is the herdsman with responsibility for the cows and calves and manages the employees. His wife Becca is a physical therapist, and they have two children, Penelope (11) and Harrison (9).  Jeff is in charge of feeding animals and raising crops and fieldwork. His wife Yolanda is a CPA and they have three children, Axle (13), Olivia (12), and Ava (9). 
Mike helps with crops and feeding out dairy steers, and Vicki is the bookkeeper and does various errands.
The dairy has been partnering with dairy organizations and companies for several years to provide dairy products during June Dairy Month.  Coupons are placed in the local newspaper that can be redeemed for a free gallon of milk donated by Schultz Bros Dairy.  The local AMPI plan also donates butter and cheese for the program.
"Our community has been so excited for the giveaway each year, and we always receive lots of verbal and mailed thank yous," said Vicki.
The family is involved in the community by hosting tours and participating in local parades, including throwing out their signature Cow Tales candy.   In August, they will be a stop on the Freeman Development Corporation "Farm Crawl" event.