January Feature: Cory Eich
Posted: 1/10/2023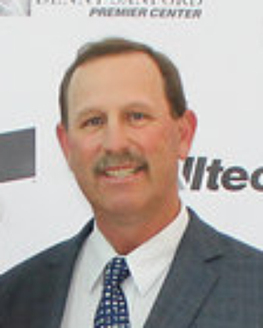 Winter is time for connection, planning, learning for South Dakota farmers
What do farmers do when harvest is finished in the fall?  While the growing season for crops may be over during South Dakota's cold winter months, farmers and ranchers are busy caring for livestock, planning for the year ahead and attending meetings and conferences to learn, connect and help determine the future of agriculture policy and outreach in the state.
Cory and Leanne Eich have been farming and raising livestock near Epiphany, about 60 miles northwest of Sioux Falls, since 1981. Cory is the fourth generation to farm on the land that his family homesteaded, having joined the farm after graduation from South Dakota State University in 1981.  Cory and Leanne have two grown daughters, Rachel and Leslie.
Today, they raise beef cows and calves along with corn, soybeans and alfalfa.  They farm with Eich's nephews Kelly Endorf and Ben Endorf. 
For the Eichs, caring for cattle herd in winter means extra steps to ensure that animals have water.  They have cattle in several locations grazing on cornstalks, so that requires turning hydrants on or off, or hauling water.  Snowstorms, such as those in December and early January, also mean the possibility of moving cattle to more protected locations.
"With livestock there is never really a down time for us, just less daylight to get the work done," he said.  He noted that both his nephews have school age children, so they also go to a lot of boys and girls basketball games.
They also plant cover crops following corn and soybean harvest to help protect soils during the winter months and improve soil health for future crops.  Cattle can also graze on cover crops.
"With unpredictable weather conditions in South Dakota, cover crops don't always work out the way we want them to, but the benefits for soil health are worth the effort," he said.
Eich has also been very active in agricultural organizations on a local, state and national level for a number of years, keeping him busy all year, but especially during meeting season in the winter.
He has been a member of the McCook-Miner-Lake Cattlemen's Affiliate of the South Dakota Cattlemen's Association for more than 25 years, and served on the state South Dakota Cattlemen's Association (SDCA) Board for 15 years. He was president of SDCA in 2013-2014.  He is also serving his second term representing South Dakota on the national Cattlemen's Beef Promotion and Research Board (CBB), which oversees the beef checkoff collection and programs.

Eich is also a founding member and current board member of the South Dakota Cattlemen's Foundation, and a member of South Dakota Corn Growers Association and South Dakota Soybean Association. He is also a member of the Ag United for South Dakota board of directors.
"It is always important to have a voice in things that have an influence on your operation instead of just talking about it at a café or bar," he said. "Participating in statewide meetings also provides an opportunity to get a different perspective from producers from different geographical regions."
Conferences and meetings also provide an opportunity to learn about new products or technologies that can help improve their farm.
"There are so many changes, new products, regulations to keep abreast of, so we need to attend seminars whenever possible," said Cory.  "Companies, farm organizations and extension put a lot of resources into these events. It's also great to get out of our comfort zone and connect with other farmers."