It's almost here... Breakfast on the Farm!
Posted: 6/8/2015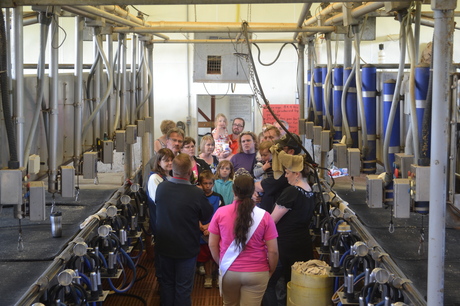 It's become an annual tradition here at South Dakota Farm Families, Breakfast on the Farm! Each June the Ode Family opens their farm for all kinds of family friendly fun.
Breakfast on the farm is happening this Saturday, June 13 from 9am – 12pm. The whole family is invite for a tour of the farm. In addition, Chris Cakes will also be serving free pancakes, sausage and milk. The younger ones in your group can explore the corn adventure trailer, make crafts, and try their hand at milking "Bessie the Cow." Phil Baker will also be singing children's songs at 10 am and 11am.
The Bob and Marilyn Ode family owns and operates Royalwood Dairy, a fourth generation dairy farm near Brandon. Brothers Doug and Gregg work together to manage the 310 cow dairy farm and raise corn and alfalfa crops. Doug has two sons, Ryan and Erik, who are both students at South Dakota State University. Gregg and his wife, Jane, have two children, Alex is a graduate of South Dakota State University working at the new Bel Brands plant in Brookings and Elisabeth is a graduate of South Dakota State University working at Lawrence & Schiller advertising in Sioux Falls.
"The open house has become a great family tradition for us. We enjoy opening our farm to the public and sharing our story," said Gregg Ode. "It is a fun way for families to see animals and learn how the milk they buy at a grocery store makes it to their tables."
Stop by Royalwood Farms this Saturday from 9am to noon to learn more about the milk you drink. The Ode family will be on hand to talk about how they produce milk on their family dairy farm. We hope you'll join us for the 8th annual Breakfast on the Farm!
Listen to this week's radio segment here! FARMERS_DAUGHTER-JUNE_8TH.mp3