Guest Blogger: Erin Little, Swine Researcher
Posted: 10/29/2018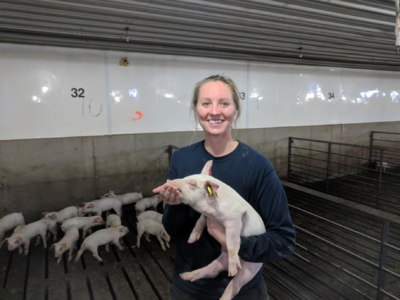 Hello, my name is Erin Little, I am a part of the research team at the Pipestone Vet Clinic and am working on a master's degree in swine genetics at South Dakota State University. My husband Derek and I live near Colman, SD on a small cow-calf and lamb operation we started when we first bought our acreage two years ago. I spend many days in the pig barn then come home to help Derek on the farm with our two dogs, Boomer and Blue. We both received our bachelor degrees from South Dakota State University and are dedicated Jackrabbit fans. Originally, I am from south central Minnesota where I grew up on a small hobby farm. Growing up, I spent time in my grandparents' nurseries watching them care for the young pigs.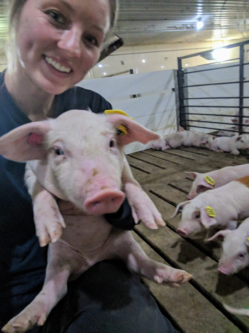 In high school I worked at a large sow farm, it was a great experience and opportunity to dive into commercial production. It was clear to see the amount of effort and care that went into each piglet, regardless of the size of the farm. As I was handling the day-to-day care of the sows and piglets, I would raise many questions about differences in management techniques, products used or various production parameters. Looking back, that was where my drive for swine research and innovation developed.
Nonetheless, I didn't necessarily realize a career in swine research was for me until I started working with the Pipestone Applied Research (PAR) group when I was a senior in college. I now manage one of our research barns, aid in protocol development and data analysis. The research barns look very similar to a commercial 2400 head wean-to-finish barn, with a few exceptions i.e. more pens and an automated feed system that allows us to track feed consumption of the pigs. Personally, I am involved in both the day-to-day care for the pigs and the trial development, to me that shows the uniqueness of production-driven research. I get to help in barns where we conduct applied research trials that answer relevant questions that are important to producers. It gives them data-driven answers that they can have confidence, with proper management, will be repeatable in their facilities.  I am proud to be a part of company that emphasizes the importance of, and aligns their values with, independent producers.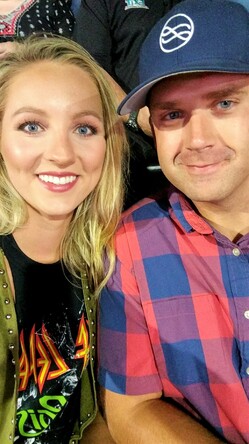 Erin and her husband, Derek
I started my master's program in the fall of 2017. I spent a few years working for PAR before returning to school. I hope to combine my practical experiences working in the research barns and knowledge acquired from SDSU to improve the health and production on farms and I believe that we can do this without compromising pig care.
As we move forward, I see transparency and information distribution being a key component when connecting with consumers. It goes beyond completing well-conducted research, as producers, we need to distribute and relay information on a strong and amicable platform.  Above all, I think it is great to see how welcoming the swine industry is to innovation. As a whole, we understand that sustainability, efficiency and welfare are extremely important and research is a great tool to drive the industry forward.
Listen to Erin's Farmer's Daughter radio segment here: 10.29.18 FD Erin Little.mp3