Guest Blog: Thankful for nice weather!
Posted: 11/16/2015
This month's Guest Blog is written by Brianna Buseman. Thanks for sharing your story!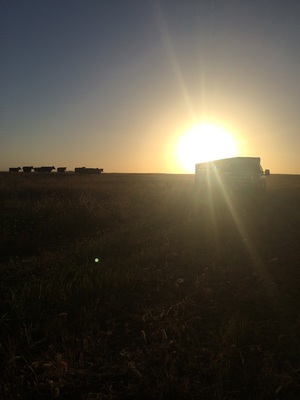 My name is Brianna Buseman and I am a Farmer's Daughter. This past summer I was the intern with Ag United for South Dakota, so this isn't my first appearance on the Farmer's Daughter segment. I am currently serving as one of the South Dakota Beef Ambassadors and am excited to share my knowledge of South Dakota Ag with anyone who is interested in hearing it!
Currently I am a sophomore at SDSU where I am pursuing a double major in Agricultural Business and Animal Science. On campus the past few weeks I have sensed a big shift in the atmosphere, the holidays are coming! Along with the student's dreams of pumpkin pie and Christmas trees, I have heard fellow Jackrabbits wishing for snow. Although having the ground covered in white makes that walk to class a little more difficult, it really puts everyone in the holiday spirit. While student's all across the state hope for that long awaited snow day, cattle farmer's hope the above average temperatures last for a while longer.
A few weeks back, I helped my dad move cows out to the cornstalks where we hope to let them feed for the upcoming weeks. This method is a great way for farmers to feed their cattle with very little cost. Often times, this window of opportunity is cut short by bad weather. This fall, with temperatures above average, farmers are hoping to get the most out of this feed method. Warmer weather also makes daily chores and other jobs easier to complete.
When celebrating this holiday season, remember there is a lot to be thankful for. One of those many things is the farmers who work tirelessly to provide for our families. Those farmers are thankful for the beautiful weather we have been having and I'm sure that many are hoping that it continues for a while longer!
Listen to this week's radio segment here! FARMERS_DAUGHTER_-_NOV_16TH.mp3