Guest Blog: South Dakota Dairy Princess Morgan Kohl
Posted: 6/18/2018
Hello Everyone!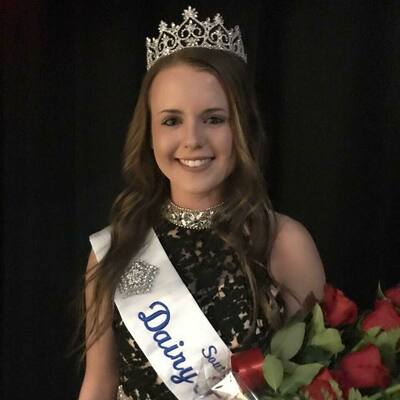 My name is Morgan Kohl and I am excited to be serving as the 2018-19 South Dakota Dairy Princess.
I recently graduated from Waverly-South Shore High School. This fall, I plan on attending South Dakota State University for a double major in dairy production and animal science. I plan on being involved in several organizations on campus including the dairy club. My future plans are to become a Doctor in Veterinary Medicine with a specialization in dairy.
As a farmer's daughter, I have been involved in agriculture my entire life. I grew up on a small farm near Kranzburg, South Dakota. Although I was raised on a beef farm, I quickly became affiliated with the dairy community. From a very young age, I began showing and judging dairy cattle in 4-H and FFA. As a result, I quickly developed a passion for dairy. I constantly found myself wanting to become more and more involved within the dairy community and to continue learning more about it. 
For over the past year, I have been employed at a local dairy farm near Goodwin, SD, MoDak Dairy, where I absolutely love my job. I am currently working in the calving unit where I help oversee the overall care of calves including treatments, feeding, cleaning barns, and working cattle. Through my previous work experiences and affiliation with the dairy community, I decided to run for the title of the South Dakota Dairy Princess this past March where I was crowned at the Central Plains Dairy Expo. I am honored to have received such a title and look forward to representing dairy and talking with consumers through my upcoming reign.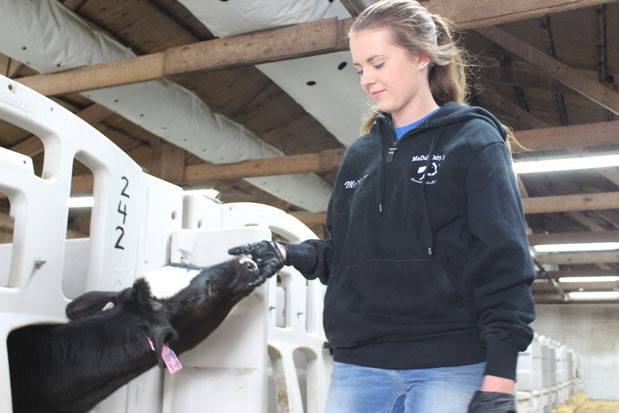 Photo by Janelle Atyeo Tri-State Neighbor
As part of serving as a spokeswoman and advocate for the dairy community, it is my privilege to interact with consumers, as well as the public, to share my passion for dairy and the important role dairy foods play as an essential part of our daily lives. Dairy farmers put a lot of passion, care and pride into producing nutritious, high quality milk for everyone to enjoy. This month, June, is National Dairy Month and there is no better time to celebrate our love for delicious, local, and nutrient-rich dairy products. Here are my top four reasons to enjoy dairy foods each day: 
Dairy foods are not only delicious, but something you can feel good about. For example, chocolate milk is tasty and can refuel your body after a hard workout. 
Dairy is local. 97% of dairy farms are family-owned and operated. On average, milk travels for about 48 hours from farm to the store shelf. That's fresh! 
Dairy is nutrient rich. Dairy products are one of the most affordable sources of nutrition, including eight grams of high-quality protein. Dairy makes eating healthy easy because it tastes great and is very versatile. 
Dairy is responsibly produced. Through the use of innovative and safe technology, the dairy community delivers exceptional animal care, quality nutrition, and the freshest products around. Dairy is the most federally regulated food industry that this country has.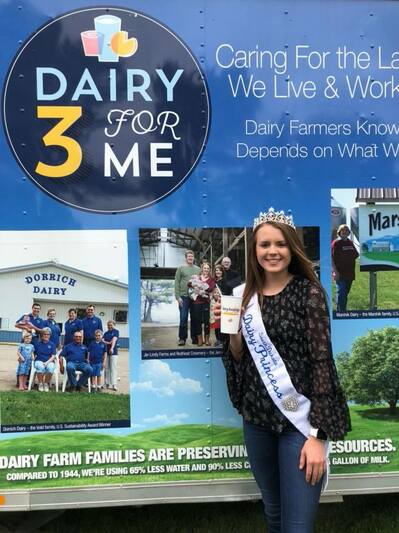 I believe it is so important to advocate for the dairy community because today there is a major gap between farmers and consumers. We need to work to bridge that gap and invest in telling our story and giving consumers an excellent dairy experience. This is why I am so honored to be serving as the South Dakota Dairy Princess for the upcoming year, because it will give me the opportunity to help share my story and my passion for dairy's journey from farm to table.
Morgan also recorded a guest segment on KELO 1320AM / 107.9 FM. If you missed it, you can listen to it here: 6.18.18 FD Morgan Kohl SD Dairy Princess.mp3
Be sure to tune in each Monday at 10am to hear the new Farmer's Daughter segment!