Guest Blog: Adventures and Relationships
Posted: 2/27/2018
This week's Farmer's Daughter blog and radio segment are by Larissa Neugebauer, a Farmer's Daughter originally from Dimock, SD!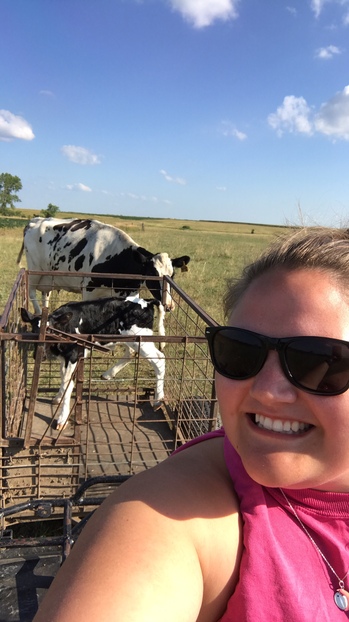 Adventures and relationships are two words that can mean so many things – especially when it involves family, agriculture, and dairy farming! Growing up on a small family dairy in rural Dimock, SD, every day was a different kind of adventure; some good, some fun, and some not so great. Someone forgetting to close the gate and realizing the cows have taken a little stroll around the section, the early morning and late nights in the field during planting, harvesting, haying, learning from a young age the excitement of a newborn calf but also the sorrow of a loss of a calf or your favorite milk cow!
No matter what the adventure was on my family's farm, one thing that remains extremely important is the relationships we made! Whether it be relationships with neighbors that lend a hand, the cattle establishing a common ground of trust between humans and animals, or the consumers to building trusting relationship that what we do on the farm is safe and done to the best of our ability, so they have a quality product!
Building relationships and dairy cows are my lifelong passions.  I combined these two things and attended South Dakota State University earning my B.S in Dairy Production and B.S. in Agricultural Leadership with minors in Animal Science and Ag. Business. After graduation, I jumped right into the industry and started even more adventures!
I enjoy playing many different roles within the dairy industry.  I work for Furst-McNess Company as a Specialty Ingredient Representative. I work on the technical sales side of the specialty feed ingredients and silage inoculants by helping salesmen with our specialty products, along with going to the farm and helping producers one-on-one find the best solutions to the problems they face on the farm!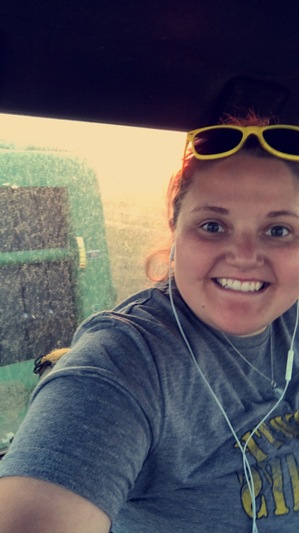 When I'm close to home, I get to pull on my boots and head out to the barn and milk cows! I make sure to get in a tractor seat as much as I can. This helps me remember where I came from but also keep myself grounded with the day-to-day activities of a dairy farm first hand. It is extremely important to me to still be actively involved on my family's farm because it's where my passion for the dairy industry and caring for animals all started!
When I am not working with livestock nutrition or milking cows on my family farm, you can usually find me chatting with just about anyone that wants to talk about cows or how the dairy industry works! My Dad, Jim, has been a major advocate for the dairy industry my entire life and he has shared that passion for sharing our story with me. I believe that if we as dairy farmers, don't tell our story who will? My dad and I team up and run the malt wagon and milkshake stand at Dakotafest in Mitchell, SD every August. Another event I coordinate is Dairy Fest held in June in Brookings, SD. Dairy Fest is a free family fun event where the public can and learn about the industry along with enjoying lunch and tour on a dairy farm.  I get involved in helping with the South Dakota Dairy Princess pageant and other events that Midwest dairy hosts in the state.
 Letting consumers hear my family's story of dairy farming, sharing some of our adventure stories, and showing photos of the farm and cows are a few of my favorite things! I love to show consumers that even though we all come from different walks of life, we can find something to laugh at along with maybe even learn a thing or two!  
Did you miss this week's radio segment? Listen to it now! 2.26.18 FD Larissa Neugebauer.mp3 Be sure to tune in to 1320AM and 107.9 FM each Monday at 10:00 a.m. to catch the newest Farmer's Daughter segment!