Focus on Quality Drives Cheese Production
Posted: 6/1/2018
June Featured Farmer Profile: Deb Wehde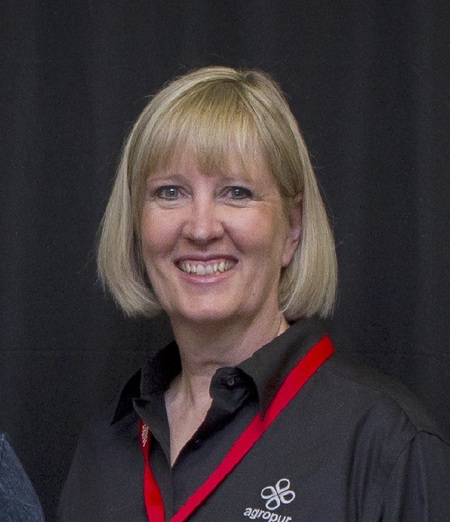 Deb Wehde sees firsthand every day the dedication and commitment it takes to ensure the best quality cheese, milk and other dairy products are delivered to families in South Dakota and beyond. As a field representative for cheese processor Agropur, she works with dairy farmers in South Dakota, Iowa, Nebraska and Minnesota who sell their milk to the company's cheese plant in Hull, Iowa.  
Deb grew up in Brandon, South Dakota, on a diversified farm with crops, hogs, beef and a herd of 45 dairy cows.  She enjoyed working on the farm throughout high school and was even the first girl to participate in the Brandon Valley FFA program.  She majored in dairy production at South Dakota State University and has been involved in agricultural sales and related jobs throughout her career.   
She joined Agropur six years ago. Agropur is a Canadian-based company with nine plants in the United States, including two fluid milk processing plants and seven cheese production plants. Local plants are Lake Norden, South Dakota, and Le Sueur, Minnesota, in addition to the Hull plant.  
Deb's role is to communicate with farm families and farm managers to make sure that each farm meets the standards that the dairy industry and Agropur have for both animal care and milk quality.  She works with farms within about 80 miles of Hull, Iowa, that range in size from 25 cows to 10,000 cows.
"I appreciate the opportunity to work with all the dairy farm families.  No matter the farm size, they are all progressive and eager to learn and adopt new practices that will help them take better care of their animals and produce a high-quality product," she said.  "They are all proud of the milk they ship to us and that they are playing a role in delivering delicious dairy products to consumers."
On the farm, milk is quickly cooled and stored in refrigerated tanks until it is transported to the plant.  Each load of milk is tested when it arrives at the plant to ensure that it meets temperature and quality standards as well as contains no antibiotics.   (Click hereto watch a video featuring Dr. Lloyd Metzger from South Dakota State University reviewing practices that dairy farmers and processors take to ensure the safety and quality of dairy products. This video focuses on fluid milk processing, but the same practices are in place on farms and in plants for cheese production!)
When it is unloaded, the milk is stored in silos and used within 24 hours to ensure quality and freshness. The Hull Agropur plant has a capacity to take 2.7 million pounds (about 314,000 gallons) of milk each day, with an ultrafiltration line that has capacity for additional milk.  They produce mozzarella, mild cheddar, Colby jack, muenster, parmesan and Monterey jack cheeses that are sold under private label company brands across the country.  
"The vast majority of our milk at the Hull plant comes within an 80-mile radius of the plant, making the cheese we produce a very local product," she said.
Dairy farmers are facing several challenges, including low prices due to export markets, as well as having enough employees to work on farms.  In fact, the limited labor supply is prompting some farms to remodel to incorporate robotic milkers, automatic calf feeders and other technologies.  
She sees a number of opportunities for dairy farmers in South Dakota and the I-29 corridor, especially with the expansion underway at Agropur's Lake Norden, South Dakota, facility. The plant currently has capacity to process three million pounds of milk each day and will increase to nine million pound a day when the expansion is complete in spring 2019.  
To celebrate National Dairy Month in June each year, several Agropur locations host Cheese Fest events to share a meal with the community and support local FFA and 4-H programs.  Cheese Fest at Agropur in Hull will be held from 11 a.m. to 1 p.m. on Thursday, June 7.
In addition, Agropur helps sponsor DairyFestin Brookings and other programs and open houses each year to share dairy farmers' stories with the public, and events like Central Plains Dairy Expothat help educate dairy farmers on latest technologies and practices.