Five things to know about fall on the farm
Posted: 9/26/2016
Although we have still been enjoying warm weather, fall is officially here! Check out my top five list of things to know about Fall on the Farm: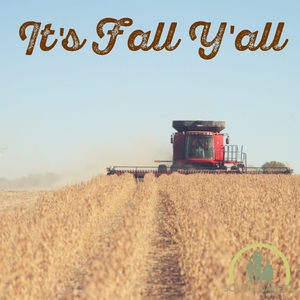 1) This time of year is busy!! Chopping silage, harvesting corn, weaning calves, and making sure everything is ready for winter takes a lot of time. That means that if there's daylight, farmers are working, and they may be working through the night too.
2) Sleep is in short supply. If you see a farmer who's in the midst of harvest, you can bet they probably haven't gotten much sleep lately. While the pumpkin spice flavored coffees are all the rage this time of year, farmers are more likely to be taking their coffee in just one flavor, black.
3) Harvest is the one time we aren't hoping for rain. The crops need to be dry to be chopped and stored, so all the rain we've had recently has delayed harvest. On the upside, the rain is still good for pastures.
4) Farmers are also making the switch to their "fall wardrobe." While other people may be instagramming tall boots and sweaters, farmers are putting on rubber boots and sweatshirts. Function is king when working on farm. Sweatshirts are the best for keeping warm during the cool mornings, and they have a handy pocket to carry the necessities. Rubber boots are easy to clean no matter what you step into. After the heat of summer, cool weather is refreshing!
5) Fall is one of the best times to be on the farm! The smell of freshly harvested crops, spending the days outside in perfect weather, and the sight of the countryside turning beautiful shades of brown and gold, are just a few of the reasons I love spending time on the farm during fall.
I hope that you are lucky enough to spend some time on the farm during one of the best seasons of the year. Enjoy these first official days of fall!
Did you miss this week's Farmer's Daughter radio segment? Listen to it here! SD_Farm_Families_-_Farmers_Daughter_Sept26th.mp3