February Feature: Marv Post
Posted: 2/14/2023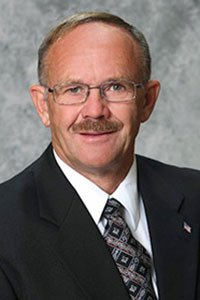 South Dakota has made headlines around the country recently for growth in milk production, with an 11% increase from November 2021 to November 2022.  Marv Post, dairy farmer from Volga, SD, reflects on the changes in the state's dairy industry and the opportunities for the future.
Post said that while the average size of dairy farms in the state has grown significantly since he and his wife, Joy, built their 70-cow dairy in 1982, the focus on keeping cows comfortable and healthy is still the most important focus for farmers.
"As dairy farmers, we've always known that keeping cows comfortable is important, but it has become an even higher priority today," said Post. "If we treat the cow well, she responds with increased milk production, and that increase in milk production per cow also means a more efficient, sustainable farm and sustainable dairy industry."
New technologies and management practices like robotic milkers, activity trackers, and more allow farmers to be even more precise in caring for cows and monitoring their health and production. Cross-ventilated barn designs make barns comfortable for both animals and the people who care for them during the extremes of South Dakota weather, too. 
Post notes that the growth of dairy cow numbers along what's known as the I-29 corridor, which includes South Dakota, northwest Iowa, southwest Minnesota, Nebraska and North Dakota, is exciting and drives economic growth for rural communities and the states.
"We've seen it over the last 15 years as dairy has grown in South Dakota.  The more cows we have, the infrastructure to support those cows and farms also grows, providing jobs and business opportunities.  It is positive for communities and tax base," he said.  According to the International Dairy Foods Association, South Dakota's dairy industry directly and indirectly created 14,700 jobs and had a total economic impact of $4.85 billion last year.
He said that in talking with dairy producers who have recently built or are planning to build new dairies in the state, the decision to farm in South Dakota is driven primarily by the access to affordable, high quality feed supplies and a market to sell their milk into.
Expansions in cheese plants like Valley Queen Cheese Factory have provided markets for the milk produced in the I-29 Corridor, although Post noted that current plants are at capacity and more plant growth is needed for growth in dairy farms to continue.
He grew up on a small farm near Volga, and while he wanted to farm right after high school, the opportunity wasn't available to join the family farm and working for other farmers wouldn't help him grow his own business.  He earned a degree in Dairy Manufacturing at South Dakota State University and had a successful career working at Kraft Foods and Land O'Lakes before purchasing his own farm from a retiring farmer.
 They currently milk 80 cows and have expanded their cropping operation over the years.  The Posts were also partners in a 1,200 cow dairy farm for a time that they purchased and sold to new owners. 
Marv and Joy have four grown children and enjoy spending time with 14 grandchildren and three great-grandchildren.
He has served the dairy industry on a number of boards and leadership positions over the years, and is currently serving on the National Dairy Board, Midwest Dairy South Dakota Division and Corporate Boards, and as Vice President of Ag United for South Dakota.  He has also served as the Chair of South Dakota Dairy Producers since its founding in 2009.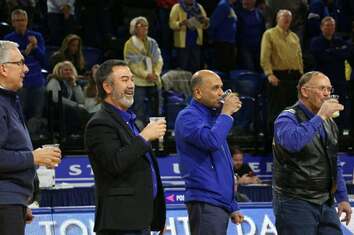 "At the time when South Dakota Dairy Producers was founded, the state's agriculture leaders recognized that there was no one speaking for South Dakota's dairy farmers and industry," he said.  "We've worked with Ag United, Midwest Dairy and other partners to tell the story of modern dairy production.  We can't expect the government or anyone else to tell our story, we have to step up and do it ourselves."
Post is also excited about the role that dairy production in South Dakota has across the U.S. and around the world.
"It is exciting to have the opportunity to serve on the export committee of the National Dairy Board and to see the growth of U.S. dairy exports going to other countries," he said.  "About one out of every five tanker loads of milk that is produced here is exported.  We are filling the nutritional needs of countries around the world." 
For more details about South Dakota's dairy industry, read a recent article from DairyStar and visit South Dakota Dairy Producers website.