Featured Rancher Profile: Jenn Zeller, the South Dakota Cowgirl
Posted: 4/4/2016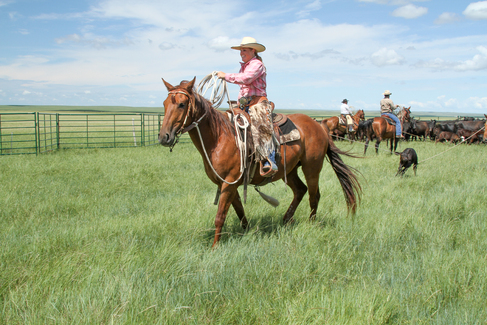 Jenn Zeller "The South Dakota Cowgirl"
For Jenn Zeller, sharing photos of everyday life on a South Dakota ranch has led to a spike in social media followers, features in national publications, and the opportunity to tell her family's ranching story with thousands of people across the country.
Known as The South Dakota Cowgirl on her web site, Facebook, Twitter, and Instagram accounts, Jenn combines her passion for horse life and ranching with a talent in telling stories through beautiful photography to share the story of life on the Duchenaux Ranch located on the Cheyenne River Sioux Reservation, near Eagle Butte, South Dakota.
The family runs a roughly 7,000 acre ranch that includes raising beef cows and calves, harvesting about 300 acres of alfalfa hay each year, and raising a herd of about 50 American Quarter horses. The ranch also offers an internship program to college students majoring in agriculture, equine or animal science to learn more about low-stress cattle handling, low-stress ranch roping and horsemanship skills. They also offer ranching vacations and a "horsemanship experience" for people interested in immersing themselves in the ranch life and their style of horsemanship.
A self-described "horse crazed little girl," Jenn was not raised on a ranch, but says she "got to one as soon as I could!" She grew up in Texas loving everything related to horses, and her parents gave her two horses the summer before she turned 12 years old.
"My dad gave me six weeks to tire of feeding them twice a day," she said. "Little did he know that by the time I was a junior in high school we'd be going to 75 rodeos a year. That led to a rodeo scholarship at Eastern New Mexico University in Portales."
She attended college there for two years. When her rodeo coach retired, she moved back to Texas and finished her degree in marketing at Tarleton State. After graduation, she began working in the financial services industry, but couldn't shake her passion for horses and riding.
She started giving horse riding lessons to students and riding some outside horses. She met Zach Ducheneaux from Ducheneaux Ranch in South Dakota through an online horse group in 2006. Jenn made the move to western South Dakota in 2008 to take a job at the ranch, and has been a part of the large ranching family ever since.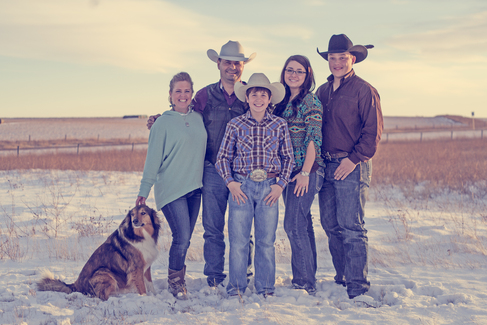 Jenn Zeller and family.
The family of Wayne and Regina Ducheneaux has been ranching for more than 60 years. Wayne and Regina had seven children: Collette Reule, Lisa Farlee, Lorelei Anderson, Zach, Guthrie, Wayne and Bud. Wayne is the executive director of the Native Governance Center in Minneapolis, and Zach, Guthrie and Bud collectively manage the Ducheneaux Ranch along with Jenn and Zach's daughter Kelsey. Bud owns the hay ground and does all the haying along with their brother-in-law Buck Reule.
At the ranch, Jenn helps with managing the horses -- registration, starting colts -- and marketing the ranch for vacations, internships, horsemanship and horse training. She began taking photos the first time when photographing horses for the ranch in 2008. She had no formal photography training, but was able to capture the moment, especially with horses and ranch subjects.
Her photos have captured the attention well beyond potential customers. Her work has been seen in South Dakota Magazine, The Capture Dakota Book, The Farm 50 Book, and numerous ag publications including the most recent cover image for Tri-State Livestock News, Stallion Showcase issue. In 2012 She received Honorable Mention in the Art Horse, Ex Arte Equinus International Competition, and was internationally published.
In October 2015, she was chosen by Instagram to be part of the #MyStory gallery, which featured 28 women using Instagram to tell their stories. Jenn was also included in a Huffington Post story and featured in O Magazine as one of five women to follow on Instagram.
Jenn's photos capture the beauty of South Dakota landscape and animals, but also share information about animal care and the dedication of farm and ranch families to their animals and land. She also communicates the role of ranchers in providing nutritious and safe food supply.
"It is rewarding to have the opportunity to have an occupation that allows me to do the things I want to everyday and still contribute to supplying Americans with tasty beef," she said.
The family also runs a nonprofit called Project H3LP which helps local Native American children gain life skills to better themselves and the community.
"We use the gentle horse herd started by the late Wayne Ducheneaux to teach young people respect and self- esteem," said Jenn. "We hope to make a difference one kid at a time."
Information about the project can be found at http://www.projecth3lp.org/ or Facebook, Twitter, and Instagram.
*Below are just a few of Jen's excellent photos. Be sure to follow her on any of her social media accounts for a daily look into life on the ranch.