Featured Profile - Kirk Phillips
Posted: 8/6/2014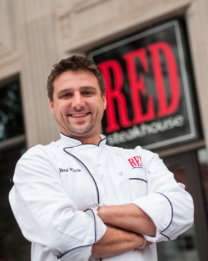 As many gardens hit their peak in August, many of us are looking for the best recipes to take advantage of the bounty of our own backyard, produce from friends and family, or finds from the local farmers market.
For Chef Kirk Phillips and his team at RED Steakhouse in Vermillion, finding ways to bring out the best in that season's ingredients is a year-round focus. The downtown Vermillion restaurant is celebrating its fourth anniversary this month.
"Whether it is a Brandywine tomato in mid-August, a braised pork shank with apples and beer in October or hand foraged morel mushrooms and asparagus in early May, the season dictates what we are hungry for and also provides the products to do so," he said. "At the restaurant, we try not to force the square block through the round hole and instead embrace the natural fit of ingredients and seasons."
Phillips has been the chef at RED for about two and a half years. He was classically trained at an American French culinary arts school and had the opportunity to train and work with renowned chef James Graham and others that have influenced his style and expertise. But, he knows that the ingredients for every meal start with farmers.
Phillips grew up in a small town in Iowa. He and his brother spent a lot of time at his grandmother's farm, where he gained an appreciation for not only the taste, but the work involved in food.
"She taught us the beauty of a fresh apple pie made from scratch, fresh pasta made by hand, the deliciousness of garden tomatoes, picked and canned in the summer and opened during the cold winter," he said. "Good food — real food — is hard work."
Phillips said that when he was growing up, he thought that store bought canned food was a luxury. He quickly learned how wrong he was!
"I look back now on that old canning cellar stacked from floor to ceiling with everything from carrots and beans to peaches and brandy in giant ceramic crocks, and am in absolute awe of all of the backbreaking hard work that was necessary to provide not only subsistence but really great food," he said.
RED Steakhouse and Chef Phillips hosted a course in one of the Pork Crawl dinners presented by South Dakota Farm Families in Vermillion earlier this year. Guests enjoyed a progressive dinner at Vermillion restaurants that featured pork dishes at each course and the opportunity to talk with South Dakota farm families while they dined.
Chef Phillips' goal is to use top quality meats, cheeses, and produce, and embrace the quality of the ingredients. He works with food service suppliers to ensure the quantity and specific ingredients needed for the restaurant, but said that home cooks have access to the same type and quality of produce and meats that are the foundation of top steakhouse meals.
"There are so many great products available at local grocers," he said. "You learn quickly what to look for by just trying one market's Iowa Chop verses another. One will taste better, or if you can't tell the difference in taste … one will cost less."
At RED, he uses only Certified Angus Beef, which is available at many supermarkets The restaurant also use Chairman's Reserve Pork, which can be found at most Fareway food stores in the Midwest.
"Usually I like going to a grocer that has an actual meat counter with a real person behind it. You can see the people who take pride in the products they sell. I have my own silly criteria that if the meat counter does not have a steak or a pork chop with a bone in it, then it's not up to snuff. In my book, bone equals flavor."
Chef Phillips and his team focus on providing consistently high quality experience for their customers and they rely on livestock producers that have the same passion and pride.
"We have visited some of the farms our beef and pork come from right here in the tri-state region of Iowa, South Dakota, and Minnesota, and could not be happier with the consistency and the pride the farmers take in providing this quality of product.
And while Chef Phillips knows that South Dakota may not be seen by the world as the epicenter of fine dining … he knows that by living here, we all have an advantage.
"Here in the Midwest, the world relies on us with our black earth, and our rock solid work ethic. They rely on the fruit of our labors to feed the masses," he said. "The beautiful part about living here is we get first dibs!"