Featured Partner: Supporting South Dakota Pork Producers and Building a Foundation for the Future
Posted: 10/5/2015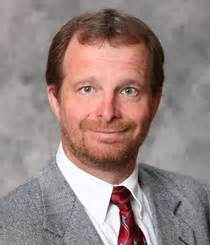 As a professor and extension swine specialist at South Dakota State University, Dr. Bob Thaler has worked with and for South Dakota's pork producers for 27 years. He has seen a number of changes and challenges over the years, but has never been more excited about the opportunities for the state's pork producers, young farmers, students and rural communities.
Dr. Thaler grew up on a farm near Wagner, South Dakota, and earned his bachelors and masters degrees at South Dakota State University. He earned a PhD in swine nutrition at Kansas State University, then had the opportunity to return to South Dakota in 1988 to take the extension swine specialist position.
His role at SDSU includes teaching and research, but his primary focus working with producers across the state in his extension role.
"My goal is to help all producers -- regardless of size – to be more successful and profitable," he said. "That includes making sure that all producers have access to new technologies and information, as well as working with a number of organizations to support South Dakota farmers' interests, including National Pork Board, South Dakota Pork Producers Association, the US Center of Pork Excellence, and many other."
Dr. Thaler develops educational programming and also partners with others to compile materials to share with producers.
"We look at research done at SDSU, other universities and the private sector, and serve as an unbiased source of information," he said.
Extension also plays an important role when emergencies or challenges hit the industry. When the PED virus was spreading in 2013 and 2014, Dr. Thaler and others worked to get information out to farmers about how the virus was spread and how they could prevent infection on their farms.
They've also worked to help farmers improve animal care and implement standardized processes to ensure the best care for animals and land.
As other sectors of agriculture have changed to grow in size and have adopted new technologies, so has the swine industry. While that has resulted in increased efficiencies, better animal health and an abundant supply of nutritious pork for consumers, it also has raised questions.
"A challenge that we have now is to help pork producers share their stories about how they care for pigs as well as the important impact that raising pigs has on rural communities across the state," said Dr. Thaler.
He noted that raising pigs is a great way to add value to the corn and soybeans produced in South Dakota, as well as bringing jobs to rural communities. Adding pork production to a family farm is a good way to provide another income source for the next generation of a family to return to the farm.
"With higher cash rents and equipment prices, it can be difficult for young people to start crop farming or for a family to expand acres to support additional families," he said. "However, adding livestock production allows a family to diversify their operation and gives a son or daughter a chance to contribute and build their niche in the business."
Expanding livestock production also means increased demand for services and support industries in rural communities, such as feed mills, nutritionists, veterinarians, trucking, construction and many more.
Dr. Thaler is also excited about changes at SDSU that will support the state's industry even more, including a $6 million Swine Education and Research Facility that is currently under construction. Ground was broken in October 2014 on the new facilities, which will feature three new barns as well as research, lab and teaching spaces. They expect to have pigs in the new barns by next summer.
The new swine unit will support a growing number of animal science students at SDSU. According to Dr. Thaler, enrollment in animal science program has more than doubled since 2001.
"There has never been a more exciting time for young people to enter a career in agriculture. The combination of technological advances and the grand challenge of feeding more than 9 billion people are resulting in tremendous opportunities," he said. "Pork production is going to play an especially important role as a high protein source for feeding people around the world."
The SDSU Swine Club has also emerged as a strong and positive voice for agriculture on campus, he said. The club includes 40 students that meet monthly and work to share information about modern swine production and agriculture with their peers. They have hosted the Farmland movie and brought speakers like Charlie Arnot, Wes Jamison, and others to the university for public lectures.
Students also have the opportunity to see the impact of pork production well beyond South Dakota. For the last four years, a student group has gone to China for a two-week agricultural course to see the United States' biggest agricultural trading partner firsthand.