Featured Partner Profile: Making Sure Students are Fueled Up and Ready to Learn
Posted: 9/1/2018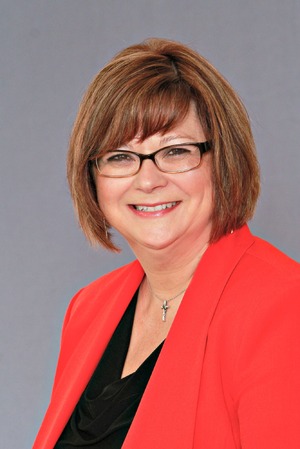 "A well fed child is a well-educated child."
Gay Anderson and her staff at Brandon Valley School District in Brandon, South Dakota, take this statement to heart every day of the school year.  Anderson is the Child Nutrition Director for the school district with responsibility for ensuring that 4,300 students across seven buildings in the district are "fueled up and ready to learn" each day.
Anderson was born and raised in North Dakota. She had extensive food service experience, but not in a school setting.  When her family moved to Sioux Falls area for her husband's job, she reached out to her children's school district. 
"I was emailing the Brandon Valley school district about programs for our kids, then asked if they had any openings in food service management," she said. "It turned out that the child nutrition director position was open. The timing was perfect and I fell in love with the job. 
During the 16 years that Anderson has worked at Brandon Valley, the district has grown from 2,400 students to 4,300, significantly increasing nutrition service needs and staffing.  Each of the seven buildings have a full-service kitchen and serve both lunch and breakfast each day.  The elementary schools also have a "second chance" breakfast later in the morning.
Anderson is also serving as the national president of the School Nutrition Association, which represents almost 60,000 members across the country.  The association provides resources to nutrition directors and advocates for school nutrition issues with legislators and officials in Washington and states.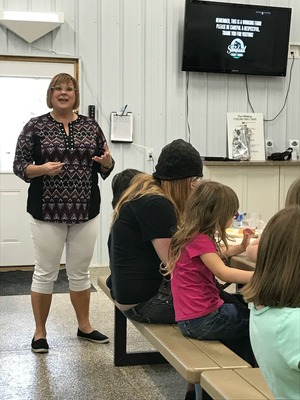 Gay speaking to a group about ensuring all students get a healthy meal.
Regardless of district size, feeding students can be a balancing act for nutrition directors.  School programs must meet specific requirements for nutrition and food safety, must be grown in America, while providing meals that taste great and kids enjoy to minimize food waste.
"School nutrition programs are some of the most regulated programs because we have strict calorie, fat sodium guidelines," she said, noting that all grains must be at least 50 percent whole grain and every meal must include a fruit or vegetable. School nutrition programs are reauthorized with the federal government every five years.
"Food safety is our top priority.  We will always follow usage guidelines and err on the side of caution when it comes to serving food and keeping our kids safe," she said.  "We are proud of how well our schools do in health inspections. There have been several times when all of the schools have all gotten perfect scores at the same time."  
Anderson and her staff works to introduce new meals and flavors and new fruits and vegetables to students along with the perennial favorites of pizza and popcorn chicken.  They've added Asian foods and a variety of beef meals, and she enjoys doing nutrition education programs with students during the year. 
"The nutrition program is a very important part of education process.  Our staff has the chance to meet every child every day, and those few seconds are an opportunity to make their day," she said.  "Whether it is commenting on a new haircut or new shirt, or just saying hello, it may be the positive interaction they need."
Anderson also recognizes the strong connection between her role and South Dakota agriculture. 
"Growing up in a North Dakota farming community, I understand and appreciate the value of the family farm and how we rely on farmers for our food supply and more," she said. 
Anderson has participated in several events hosted by Ag United, including speaking at Farms After Five tours and the Know Your Milk tour at Stensland Dairy. 
"I've enjoyed the opportunities to share with Ag United tours and meetings to talk about school nutrition programs and how we value what people in agriculture are doing for us," she said.  "We know that farmers care about what we are serving to students, and I believe that farmers are doing everything they can to keep our food supply safe."