Featured Partner: East River Electric Cooperative
Posted: 2/9/2021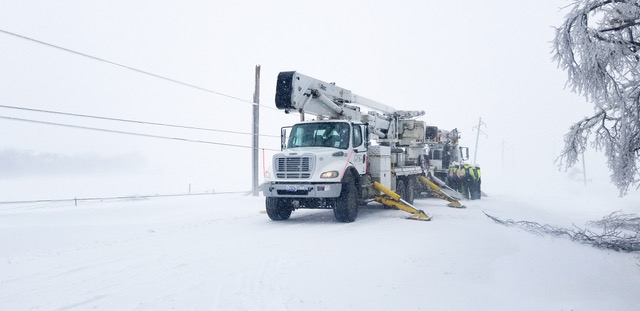 Tailgate Huddle photo: East River crews huddle together for a safety tailgate discussion before beginning repairs to the transmission system that was damaged during an April 2019 spring storm.
FEATURED PARTNER: EAST RIVER ELECTRIC POWER COOPERATIVE
Starting with the passage of the Rural Electrification Act in 1936, Rural Electric Cooperatives (RECs) were critical to improving both the quality of life and productivity of farm and ranch families in South Dakota and across the country.  Nearly 85 years later, electric cooperatives are still committed to serving and bringing new opportunities to rural South Dakota. 
Local rural electric cooperatives began forming in the late 1930s when farmers came together to bring electricity to their homes and farms.  Those local RECs were purchasing electricity from private utility companies, however as the local systems grew, they began looking for other options.
"As the dams and hydropower plants were built on the Missouri River, a group of individual distribution cooperatives formed East River Electric Power Cooperative in 1949, which was a transmission cooperative to build the infrastructure to bring power from the dams to the countryside," said Chris Studer, Chief Member and Public Relations Officer, East River Electric.   
As demand outpaced capacity from hydropower plants, East River Electric and other similar transmission co-ops in the region created Basin Electric Power Cooperative as their generation cooperative to procure power, which over the years included coal, natural gas, wind and other sources. They will add utility-scale solar to their portfolio over the next few years including what will be South Dakota's largest solar farm near New Underwood.
East River Electric sells and transmits electricity to 25 members – 24 RECs and one municipality — in eastern South Dakota and western Minnesota.  In addition, the members share resources such as radio, phone, cybersecurity and other support systems to increase efficiency and improve service for their member-owners. 
"We work together to enhance the value of our member systems, doing things together to save money and create efficiencies," he said.  "We also work together to forecast demand and future growth to ensure that we will always have the capacity to serve new homes, farms or commercial needs." 
With more than 3,000 miles of transmission lines and 250 substations, East River Electric has the largest infrastructure of any utility group in the state. Studer noted that they are typically planning at least 20 years out, even purchasing land for substations years before they expect to build, to ensure that infrastructure is in place for new homes, farms or businesses.
East River Electric is governed by a 22-person Board of Directors, which is made up of representatives from the local distribution systems' boards of directors.  This ensures that the needs of members and rural consumers are represented.
"Bringing electricity to rural America was the foundation to strong farms and communities, and it was built on neighbors helping neighbors," he said.  "It is still important for members to have a voice in their electrical rates and be able to control the future of their power supply."
Since their founding, East River Electric and members have followed the universal cooperative principles to invest in the future of rural communities, including strong support for rural development, youth outreach and leadership programs.
The cooperative's Rural Electric Economic Development (REED) Fund was established in 1996 and has invested more than $100 million in revolving loan funds to businesses, nonprofits and communities for more than 340 projects across South Dakota and western Minnesota.  East River Electric was involved in programs to launch and support regional ethanol plants in the 1990s, including creating a program that allowed local farmer members to use their capital credits in the cooperative to invest in ethanol plants. 
East River has partnered with Ag United to host several workshops for farmers and ranchers to learn more about livestock production and expansion, including opportunities, regulatory and zoning, financing and more.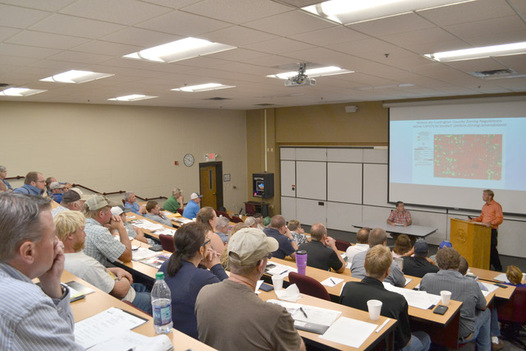 Livestock Seminar: Ag United and East River Electric, in collaboration with other associations, hosted a series of livestock development seminars in 2019.
"We recognize that livestock production is important for rural economies.  It provides an opportunity for farmers to enhance or expand their businesses and can provide an opportunity for the next generation to return to the farming operation," said Studer.  "It is a benefit to everyone.  It helps communities with economic development, diversifies farmers' businesses, and helps our local member cooperatives keep electric rates stable for all consumers."
Youth and leadership development programs have always been a high priority, said Studer, noting that young people are not only the future of farms and rural communities, but also future board member leaders for the cooperative system.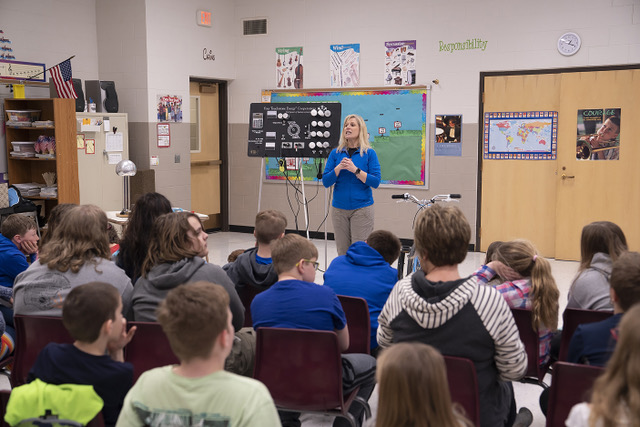 Co-ops in the Classroom: East River Education and Outreach Coordinator Jennifer Gross presenting to a group of grade school children in 2019 as part of the Co-op in the Classroom program.
East River Electric has supported college and technical school scholarships and an annual youth tour to Washington, DC, for many years. Additionally, they are planning a Virtual Ag and Rural Economy Conference for FFA, technical college and university students to focus on the inner-workings of rural economies, highlighting job and economic development opportunities and impact for young people who stay or return to rural areas. The event will be held virtually on Wed. Feb. 24 from 9 a.m. – 2:15 p.m. Visit yourcooppower.com to learn more and to register for this free event.