Featured Farmers: Hendricksons and Elliotts
Posted: 2/10/2022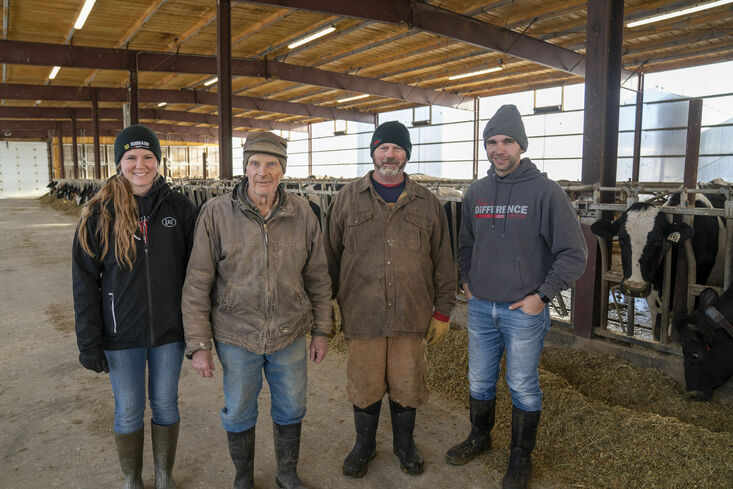 Robotics deliver benefits for families and cows at dairies of all sizes 
Technology is becoming an increasingly important part of agriculture, and the dairy industry is leading the way with robotics and other technologies that help farmers take better care of their cows, improve quality of milk for consumers and address labor shortages.
The Hendrickson family and the Elliott family are great examples of South Dakota dairy producers putting the latest technologies to work on their farms.  Located just 10 miles apart, the size of their operations is different, but they have both tailored robotic equipment to meet the needs of their dairy, cows and teams.
Byron Hendrickson is a third-generation dairy producer who farms with his wife, Mary Beth, daughter Katie and her husband Cole Hoyer, near Estelline in northeast South Dakota.  Katie and Cole joined the farm in 2021 after graduating from college.  They currently have about 140 cows in the dairy herd and raise all the calves on the farm. 
Byron grew up on the farm and many of his first memories involve helping with feeding calves, milk cows, driving tractors and other chores. The farm has evolved over the years from the installation of the first pipeline milker in 1976 to larger stanchion and tie stall barns.  As the farm's herd and needs grew, Hendrickson researched options for barn designs and the potential for installing robotic milkers.  
"I had always been intrigued by the idea of robotic milkers and thought it would be the way of the future, especially in areas where it is hard to find employees," said Hendrickson.
In 2016, they began construction of a new freestall barn and robotic milking parlor.  There are two robotic milkers that cows enter when they are ready to be milked.
"The biggest advantage to robots is the health of the cows," said Hendrickson.  "They are milked more often and at the times they want to be."  He said that cows typically enter the milker three times a day, but some high producing cows choose to be milked four, five or six times a day.
When a cow goes into the milker, the robot is able to locate the cow's udders using a scanner similar to those in grocery stores, then washes and dries them, and puts on milker units that pulsate to stimulate milk to let down.  When the flow of milk slows, the robotic arm removes the milking units to be washed, and a teat dip is applied to each teat.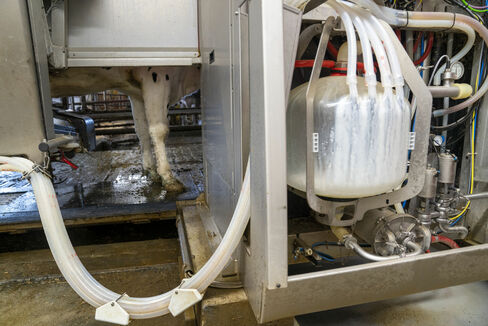 "We get a lot more data on the cows than we ever did before and allows us to pick up possible issues much earlier than we could have with the naked eye," said Hendrickson. 
Each cows wears an electronic tag that is read every time she visits the milker and it can create up to 150 reports for each cow.  The robotic system tracks the amount of time a cow spends ruminating, or chewing her cud, and also keeps track of milk temperatures and other factors that can help identify health issues early.
The dairy also uses robotic feed pushers that ensure that feed stays in front of cows all day.  Feed is delivered with a feed wagon twice a day, but cows' natural behavior is to use their noses to push feed around, which can put it out of their reach.  The automatic pushers go down each bunkline every hour to ensure feed is moved closer to cows and they have feed access 24/7. 
"It has been one of the most troublefree pieces of equipment I've ever owned, and makes sure that the cows always have feed in front of them," said Hendrickson.
Hendrickson's move to robotic milkers has been a benefit for their farm and a solid foundation for the future as they plan a transition to Katie and Cole in coming years. 
"If you can run a cell phone today, you can run a robot," he said.  "They are touch screen and self-contained, and as long as you keep all the parts clean and do maintenance, they will do a good job at what they are supposed to do." 
Drumgoon Dairy, owned by Rodney and Dorothy Elliott near Lake Norden, SD, has been milking cows in their robotic parlor since January 2021.  They installed 20 robots to milk a total of 1,470 cows on their farm.  It is the third milking facility on the farm, bringing the total herd to 5,500 milking cows.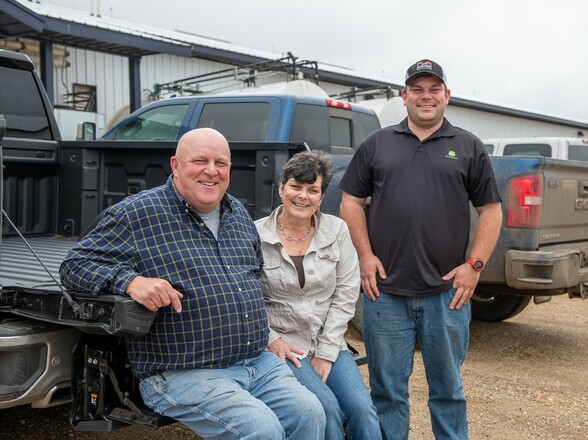 Rodney and Dorothy Elliott immigrated to South Dakota with their family from their native Ireland in 2006, and purchased the dairy near Lake Norden. Their son, David, returned to the dairy farm after college graduation in 2014 and has become an important part of the management team. In the latest expansion, they chose robots for their consistency and efficiency, which allows cows to spend more time eating and resting.  The robots also help fill the dairy's growing need for labor.
"Employees are becoming harder to find, as people are less and less willing to stand and do some of the jobs that are traditionally on dairy farms," said Rodney Elliott.
Drumgoon Dairy also uses robotic feed pushers, and automatic scrapers that scrape manure from the freestall barns where cows are housed.