Featured Farmer - Morgan Kontz, Colman, SD
Posted: 7/27/2012
Living and Learning on the Farm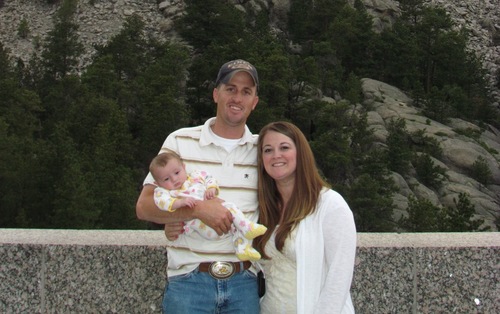 According to the old saying … you learn something new every day. South Dakota farmer Morgan Kontz has taken this saying to heart. Not only is she constantly learning about farming, she shares her experiences with the world.
Morgan grew up in Indiana and earned a degree in Agricultural Education, but had never lived or worked on a farm. She moved to South Dakota in 2008 and married her husband Jason, who was farming with his family near Colman. In January 2011, she started a blog titled "Stories of a First Generation Farm Wife" that chronicles the daily life on their family's crop and livestock farm.
"I have no farming background, so some of the things I experience on the farm are for the first time and can be pretty educational and sometimes entertaining," said Morgan. "My heart lies in teaching, so blogging and working with CommonGround gives me the chance to talk about our farm, what we do, and how we are providing a safe, healthy and affordable product."
Morgan and Jason are part of a farming partnership that includes Jason's two brothers, their families, and Jason's parents. Together they farm about 3,000 acres of corn, soybeans and alfalfa hay, and manage a cow/calf herd and beef feedlot.
Everyone in the family has a role in the farming operation, including the children whenever possible. Morgan and Jason welcomed the newest member of the farm family – their daughter Elliette - in April. She joins seven cousins ranging in age from 3 months to 12 years.
"The most rewarding part of raising livestock is the pleasure of living off the land and being outside every day," said Morgan. "We enjoy being able to raise our children on the farm and being able to instill strong morals in agriculture and working hard."


Dealing with the challenges and uncertainty of Mother Nature has been one of the most difficult transitions for Morgan.


"It is hard to predict what our year will look like and at times that can be devastating, but a lot of times can be beautiful," she said.
In her blog, Morgan answers questions about modern farming and food production, and reaches out to fellow farm moms and bloggers to address issues. For example, she recently posted information about rBST in milk production with the help of South Dakota dairy farmer Ginger Post. Read the post here.

Jason and Morgan are both active in South Dakota agriculture organizations. Jason is a director on the South Dakota Corn Utilization Council, and Morgan is on the advisory committee for the Flandreau FFA and volunteers with CommonGround. CommonGround is a group of farm women whose goal is to initiate conversations between the women who purchase food and those who produce it. Visit www.findourcommonground.com to learn more.