Featured Farmer: Matt Meier
Posted: 8/11/2021
Matt Meier's love of farming and raising crops started young and has evolved into a custom farming business that involves the entire family.  His daughter, Ellie, has also found a passion in raising and showing livestock.
Matt grew up near Mount Vernon, SD, and started renting land to raise crops when he was a senior in high school. When he and Angie married, they moved to Letcher, and he farmed with his dad and brother until 2015 when he shifted his focus and started Meier Custom Farming. He owns planting, spraying and harvesting equipment, and is hired by other farmers or landowners to plant, apply crop protection products or harvest crops on their land. 
He typically works with farmers within 60 miles of Letcher, but has occasionally traveled further if it is a good opportunity for both himself and the landowner. He plants and harvests a variety of crops from corn and soybeans to spring and winter wheat and sunflowers. 
Matt and Angie have two daughters: Ellie is 16 and Maggie is 6. They are both active in school activities.
Angie works for the City of Letcher and also helps operate combines and equipment with Meier Custom Farming, and Ellie helps with moving equipment as well. Matt also has several parttime seasonal employees that help when needed. 
He enjoys the variety and opportunity to learn new things with custom farming. 
"It's a great way to meet new people and see how each farmer manages his land and crops differently, and the new things they are trying to increase yields or to take better care of the soils and water," he said.
Meier notes that there are a number of reasons that farmers or landowners hire a custom farmer instead of doing the work themselves.
"Timeliness is a big reason. If they get behind and need a little extra help finishing up planting or harvesting, I'm happy to help them out," he said. Farmers who raise both crops and livestock may need help with spraying or other tasks when they are busy with animals. Meier can either harvest a crop for a farmer completely, or run his equipment along with the farmers' own equipment to make things move more quickly. 
Some farmers also choose to hire custom farmers for specific jobs rather than own equipment themselves. 
"As equipment is more expensive, sometimes it makes sense to hire a custom operator," he said. "Farmers also have fewer hired hands and employees, so don't have the people to help run additional equipment."
Just as Matt found his interest in agriculture at an early age, his daughter, Ellie, began showing animals at the county 4-H achievement show when she was about 10 years old. She has started raising her own small herd of sheep to raise lambs to show at the county show as well as South Dakota State Fair and several other regional livestock shows.
She is also involved in FFA, volleyball and basketball at Sanborn Central High School. 
"Being involved in 4-H and raising animals builds a great work ethic, responsibility and leadership," said Meier. "She is always working to find better ways to feed and care for animals so they are healthier and perform better."   
While custom farming means long days and busy schedules, Meier sees a lot of benefits in his farming business.
"It's in my blood. I like being outdoors and learning about how farmers approach things differently," he said. "At the end of the day, farmers are all alike, we're all looking for new ideas and new ways to grow crops and care for the land to feed the world."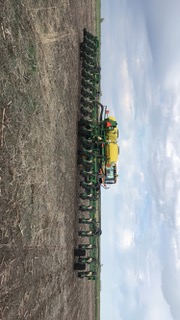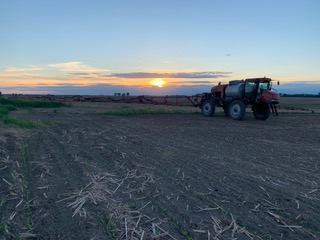 A planter (left) and sprayer (right) are some of the equipment that Matt uses for his custom farming business.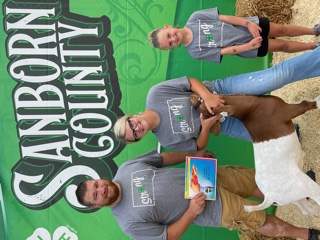 Matt and his daughters, Ellie and Maggie at Sanborn County Fair with Ellie's meat goat.