Featured Farmer - Lester and Rosemary Moeller, St. Lawrence
Posted: 2/4/2013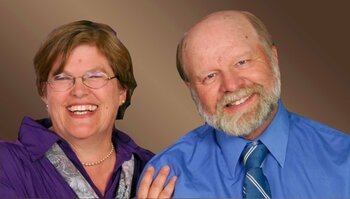 For most South Dakota farmers, the hot summer and drought of 2012 meant an early harvest. It was no different for Lester Moeller from St. Lawrence. But, while the difficult growing conditions resulted in a disappointing harvest, the early timing opened up a tremendous opportunity for Lester and his wife, Rosemary.
In early November, the Moellers received information that pork producers around the country were reaching out to help victims of Hurricane Sandy. Within 48 hours, they were boarding a flight to the East Coast.
"In a normal year, I would have been busy with harvest," said Lester. "But this year was different, so we decided to take advantage of that and go help."
The Moellers worked with the "We Care" trailer, a joint initiative of the Pork Checkoff through the National Pork Board and the National Pork Producers Council. They spent three days grilling pork loins and bratwurst patties for volunteers and New Jersey residents who were hit by Hurricane Sandy.
"It was really emotional for us to see how many people who wanted to help," said Lester. "There were a lot of local people who were without electricity who were also stopping by to see what they could do to help out."
In total, pork producers from six states spent a week grilling more than 9,000 servings of pork. Industry partners Smithfield Foods, Johnsonville, and Hatfield Brands donated more than 8,300 pounds of pork products, and pork producer organizations from nine states contributed to the effort.
For Lester and Rosemary, helping with the We Care initiative is just an extension of the volunteer and community work they've always done in South Dakota.
Lester has been involved with the South Dakota Pork Producers Council for more than 30 years, serving in a variety of leadership and committee positions. He is also a member of the Miller Chamber of Commerce. Rosemary and Lester have also been very involved in the Central Plains Arts Council in St. Lawrence, serving as president and in leadership roles throughout the years.
Lester Moeller has been farming for 36 years. He and Rosemary grow wheat, corn, sorghum and soybeans on about 2,400 acres, and raise 3,300 hogs in a "grower to finisher" unit. They have three grown children.
The Moellers enjoy traveling, and also enjoy sharing their part of South Dakota each fall. They operate a hunting lodge each year during pheasant season.
"Not only do we travel all over the world, the world gets to come to our door," said Lester.
Lester is also excited about the future of livestock production in South Dakota. Agriculture is currently the leading driver in the state's economy, and he sees many more opportunities.
"Whether it is dairy, swine, beef, poultry, there is a lot of potential. In South Dakota, we have less expensive feed sources, lots of open spaces to ease biosecurity concerns, and the best people in the world to care for the animals," said Lester. "If young people are considering coming back to the farm, I encourage them to look at animal production as a way to make that happen."
You can watch video from the Moellers visit to New Jersey to serve victims of Hurricane Sandy here.