Featured Farmer - Kurt Stiefvater, Salem
Posted: 6/5/2012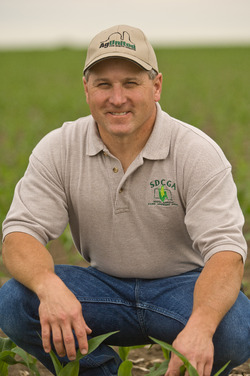 Kurt Stiefvater has watched the changing seasons from his family's farm near Salem his entire life, and it still impresses him every day. From newborn calves in the spring to harvest in the fall, Mother Nature has something new in store for South Dakota farmers every day of the year.
Kurt grows corn and soybeans about 40 miles west of Sioux Falls. He also has a 125-head beef cow herd and raises alfalfa and has pasture land for beef cows. He grew up on his family's farm, helping with chores and having farm projects even while in school. He joined the farm full time in 1987, and farmed with his parents until purchasing their share of the operation in 1995.
"Spring is exciting because of the new life it represents. On our farm, that means baby calves and planting seeds for the new year's crops," said Kurt. "Each fall, it is rewarding to see your hard work and decision making pay off during harvest."
His wife, Kathy is a teacher in Salem. Their three daughters – Lauren is 9, Megan is 7 and Karlie is 5 - are the fourth generation to grow up on the family's farm.
"It is important to me to raise my children on a farm. They have the chance to see nature as well as the natural cycle of life."
While Kurt can't control the weather, he works hard to run an efficient business that allows him to handle the challenges that Mother Nature may send his way. He uses a farm management program that allows him to track the performance and productivity of his crops on a field by field basis. This detailed tracking information helps him make better management decisions and adopt new farming practices to improve productivity.
Kurt serves on the board of South Dakota Corn Growers Association as well as the board of Ag United for South Dakota.
He is also active in community organizations, and sees agriculture as the lifeblood of rural communities.
"Farmers play an important role on school, church and other boards, and the economic impact of the goods and services we buy in towns helps support a wide range of businesses," he said.
You can see videos of Kurt and his family on the farm at South Dakota Farmers Feed Us. Check them out here.