Featured Farmer Kevin Hoffman
Posted: 9/9/2019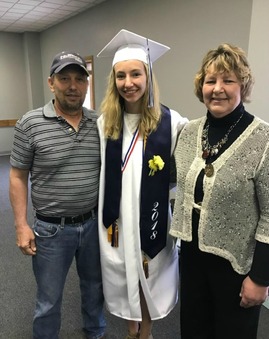 As summer winds down, many South Dakota gardeners are busy canning and freezing the bounty of their gardens.  Jars of pickles and other produce or freezers full of sweet corn and tomatoes provide a taste of summer even in the coldest South Dakota winters.  
Livestock farmers take a similar approach to some of their crops to provide a high quality and nutritious source of feed for animals all year long.  One example is corn silage.  Rather than wait until later in the fall to harvested the corn kernels, farmers "chop" the entire plant while it is green in August or September then store in silage piles or bunkers.
The chopped corn plants in silage piles are compacted, then tightly covered and allowed to ferment. Favorable bacteria grows and produces acids to prevent spoilage and preserve the plants as a high quality feed source.  
Kevin Hoffman is a dairy farmer from Dolton, South Dakota, who has also been running a custom chopping business across eastern South Dakota for nine years.  He owns and operates the harvesting equipment and trucks to chop and haul feed for farmers, and works with dairy farmers and beef producers to ensure that crops are cut at the right time to ensure the best feed possible.
Kevin's business started by buying the equipment for his own farm, then getting calls by neighbors to help them chop their fields. Every year he continued to chop for neighbors then eventually grew bigger.
"By hiring a custom chopper, farmers can still have an affordable option to get quality feed for their livestock without the expense of owning and operating the machinery themselves," said Kevin.  "My role in livestock farming is to all ow farmers to produce quality feed for their livestock all year." 
He is busy in May and June cutting alfalfa, rye and oats, then again in August and September for corn silage.  
Kevin grew up on a farm outside of Dolton where he and his wife, Judy, still milk about 70 dairy cows and raise crops.  Their daughter, Rebecka, is a sophomore at South Dakota State University studying dairy production.  She helps with the operation and plans to return after graduation.  
Kevin's brothers, Steve and Jim, are also involved in the custom chopping business as truck drivers and mechanics.
"It's a very family-based business and we try to help each other where needed," he said.  
Because silage is an important part of their cows' diets, it is key for dairy farmers to chop the corn when it is at the right moisture level to ensure that it has the most nutrients and stores and ferments properly. 
"Dairies are looking for a higher quality feed," he said. "This changes the when we chop to get the best quality."