Featured Farmer: Jorgensen Land and Cattle
Posted: 5/16/2022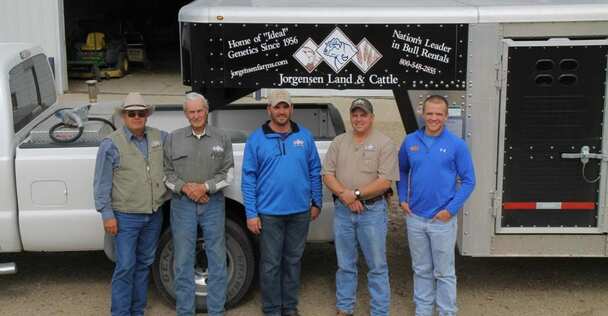 Precision technologies helping South Dakota family deliver better beef, preserve land
When people think of technology in agriculture, most think first of autosteer tractors, GPS systems, yield monitors and more for raising crops like corn and soybeans.  However, the Jorgensen family of Ideal, South Dakota, is using innovative technologies to raise better quality beef, improve how their animals graze on pasture, protect the health of their soil, and more.
The Jorgenson family originally homesteaded the land in the early 1900s and have raised crops and cattle for more than 100 years, growing the business to about 15,000 acres and raising 5,000 Angus bulls to sell to other ranches and beef producers each year.  They also operate a hunting lodge and host pheasant hunters each season.
"We are able to utilize much of our land in three ways: raising crops to feed cattle, grazing cattle, and creating habitat for pheasants," said Cody. "In many places, people are able to do one or two of those things, we're blessed to be able to do all three, which is better for the soil, land, cattle, and our family."
Cody Jorgensen is a member of the fourth generation of the Jorgensen family involved in the farm and livestock business.  Other members of the family management team are his father Greg, uncle Brian and cousin Nick. 
Cody's grandfather Martin Jorgensen, Jr., began the family's focus on building a strong, high-performing line of bulls.  He began performance testing bulls in the 1950s, keeping records of health and other traits so that ranchers who bought them could improve the genetics of their own cattle herds.  Over the years, the Jorgensens have maintained the same level of discipline and added new technologies to better understand the genetics and performance of their bulls.
"Historically we've kept records on animals so we know what traits will be passed down, but now we have the technology and data to back that up and be more precise," he said. "We have a DNA analysis on all the bulls in our herd and encourage our customers to have DNA testing on their cows so we can do an even better job of meeting their needs."
A better understanding the health and other traits of each animal results in healthier bulls, cows and calves that result in a more efficient, high quality and affordable beef supply for consumers, said Cody.
"If we know that animals are going to be healthier and perform better at every step in the chain, it is better for everyone," he said.
The Jorgensens are also testing new technologies to better manage their cattle grazing in pastures. Virtual fencing, developed by Vence, is a system where animals wear collars with an attached sending unit. Virtual fences are programmed using satellite positioning technology.  As animals get close to the virtual fence, they hear an audio tone warning, then if they continue to get too close, they receive a non-harmful shock.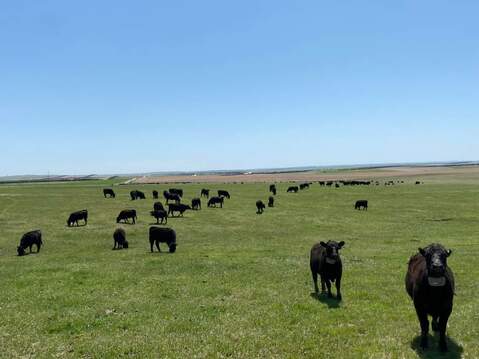 As the technology and collars that cattle wear continue to improve, Cody believes that virtual fencing will be a game changer in the industry, especially for the rotational grazing practices that they have been using for about five years.
Their grazing land is divided into 30 to 40 sections, or paddocks.  Instead of spreading out across the entire pasture, cattle are moved from one paddock to another throughout the growing season.  Each move means fresh grass for the animals and allows other paddocks to re-grow, and means pasture is grazed evenly throughout the season.
"It has lengthened our grazing season and we saw a lot of benefits during drought conditions where we were able to make the most of what we had," said Cody.
Virtual fencing will make the labor intensive part of moving cattle in the rotational grazing system simpler, and also allow the Jorgensens to graze cattle in areas that might have been challenging to install fences or monitor in the past. 
These new technologies, combined with sustainable agricultural practices are helping the family ensure that the land can support raising crops and animals for generations to come.
"Every acre that we raise crops on is no-till, with some being in a no-till system for 35 years," said Cody.  "We only receive 17-18 inches of rain a year, so we need to do everything we can to conserve moisture and keep it in the soils.  We're also trying to build the organic matter to get the soil back to its most native state."
Learn more about the family and Jorgensen Land & Cattle on their website and Facebook page.