Featured Farmer - Freeburg Hay
Posted: 9/2/2015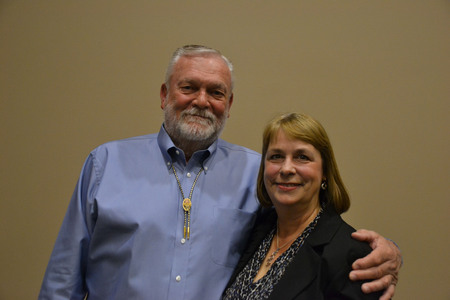 Staying focused on quality has helped a South Dakota farm family build and grow their business for more than 40 years.
Corn and soybeans typically come to mind when thinking of crops in South Dakota, but hay is an important crop for many growers and livestock producers across the state. In particular, the Missouri River valley in southeast South Dakota is well known as a top hay producing region.
"The soil in this area is well suited for alfalfa and has bountiful underground water supplies," said Amy Freeburg.
Gary and Amy Freeburg from Gayville, South Dakota, own and operate Freeburg Hay along with their sons John and Jory.
When he was in high school, Gary worked to load trucks for area farmers with small square bales of hay in the Missouri River Valley. After Amy and Gary were married in the early 1970s, they began to invest in haying equipment and land.
They now raise about 2,500 acres of alfalfa and mixed grass hay and have a storage facility along Highway 50 west of Vermillion that allows easy access for shipping hay to customers.
"One thing that sets our business apart is that we have nine large hay barns with a scale on site, so all product gets weighed in and out of the facility and is barn stored to protect it from the weather," said Amy.
Alfalfa is a perennial crop. After it is planted, it will be productive for about four to five years. During the growing season, each field is typically cut or harvested four times, depending on the weather conditions that year.
"Weather is by far the biggest factor in making hay," said Amy. "The old adage of 'Make Hay While the Sun Shines' is so true."
They strive to produce a soft, green leafy bale that is palatable for animals that eat it.
After alfalfa is grown in a field for four to five years, the land is rotated with corn and soybeans for three to four years before being planted back to alfalfa.
The Freeburgs work in cooperation with Tom and Jeff Dreesen, who specialize in caring for the row crop rotations. The Freeburgs and Dreesens each own some of the land that is rotated through the hay and row crop plantings. They also have one other full time employee. Amy manages the financial and clerical duties of the business from her home office.
"We take advantage of using the latest in equipment and technology in the fields," she said. "Over the years, that has made it possible to grow the business with a lean workforce."
Their focus on quality has allowed them to build a large and diversified customer base of dairy farms, beef farms, and horse barns. They also provide hay to zoos and other unique customers.
Gary and Amy have six grandchildren. In addition to sons John and Jory, their daughter, Erica, is a physician in Iowa City, Iowa.
The Freeburgs are strong supporters of agriculture and building education and promotion opportunities for producers.
They are long time active members of the National Hay Association. Gary served as president in 1993 and Amy is currently on the national board of directors. They have also served on a number of local, county and state associations and boards.
"I consider serving on boards as part of my continuing education, as well as giving back to the area that has made me who I am," said Amy.
They have also participated in and hosted SDARL programs (South Dakota Agriculture and Rural Leadership) that provide professional development and learning opportunities to South Dakota farmers and ag professionals.
"Because we are so involved in running our own businesses, it can be hard to take the time to serve, but giving back to our communities with our time and talents is one of the best gifts we can offer," she said. "Being good ambassadors for agriculture is the best way to promote our industry."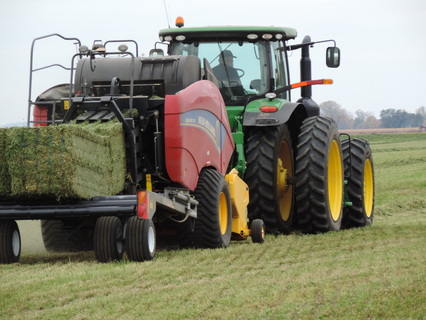 Gary Freeburg, owner of Freeburg Hay in Gayville, bales Alfalfa. Gary and Amy Freeburg have grown their business over the past 40 years, and currently sell hay all over the region to horse barns, dairy farms, and even zoos!