Featured Farmer: Farm Life Creamery
Posted: 5/11/2021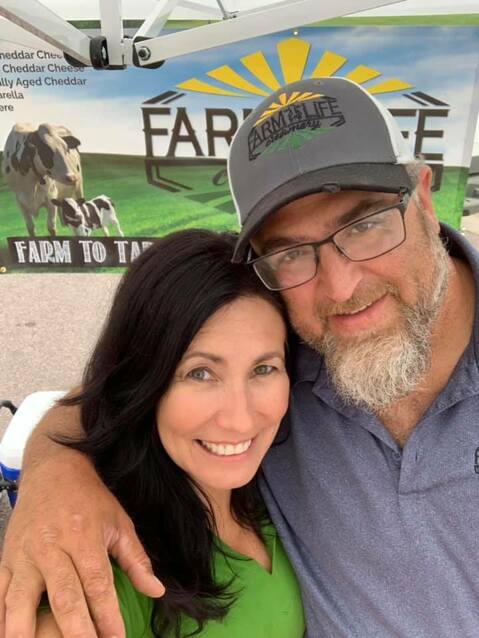 Featured Farmer: Farm Life Creamery
Artisan cheese, milk and ice cream help family share dairy experience with the public.
Did you know that May is American Cheese Month?  South Dakotans have a lot to celebrate, as cheesemakers of all sizes are growing across the state, we have an amazing variety of delicious, diverse, locally-made cheeses to enjoy!  Farm Life Creamery is one of the artisan cheesemakers that is making a name for itself with cheese products and has recently expanded to include bottled milk and ice cream.
Farm Life Creamery products get their start with milk from the dairy farm owned and operated by Gary and Amy Blase near Ethan, South Dakota. Both Gary and Amy grew up on dairy farms and started farming together in 1972.  They currently milk about 100 cows with two robotic milkers on the grade A dairy farm.
The idea for an on-farm creamery had been talked about for years as a way to add more value to the milk produced on the dairy farm.  It became a reality when their son, Chad Blase, and his partner, Laura Klock, learned that the owners of Valley Side Farm Cheese LLC near Crooks, SD, were looking to sell their equipment.  Chad and Laura learned the cheesemaking trade and bought equipment from Kris and Scott Swanson at Valley Side, and began production of Farm Life Creamery cheeses in late 2018. 
"Finding out about the opportunity to buy cheesemaking equipment changed our original direction from building a new facility to bottle milk and make ice cream to retro-fitting the existing dairy to house cheesemaking, then adding bottled milk and ice cream later," said Klock.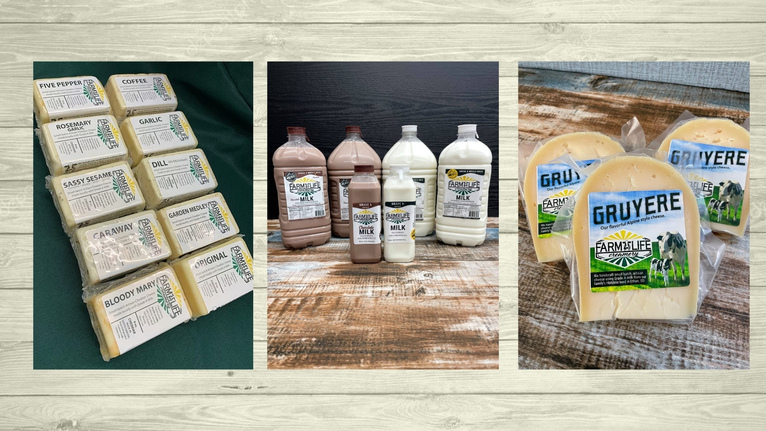 The creamery and farm store are located about three miles away from the Blase family dairy farm that supplies all the milk for cheese, ice cream and bottled milk products.  Surplus milk from the farm is sold to AMPI.
At the creamery, Chad and Laura handcraft small batch cheese, including fresh cheese curds and block cheddar and Colby cheeses.  Cheese curds are made when cheese is separated from the whey during the cheesemaking process.  Instead of being put in a mold to age and be packaged later, the curds are packaged fresh and sold right away.  They offer more than 35 flavors of cheese curds, as well as artisan block cheddar cheeses like five pepper, coffee and sesame.  They also produce Gruyere, mozzarella, Colby and chocolate cheddar cheeses.  
"We enjoy hearing how pleased customers are with our products, and love having families spend time at the creamery and farmstead store learning, touring, interacting and having fun," said Klock. 
Farm Life Creamery cheeses are available through their online store, at farmers markets and at about 20 retail locations in South Dakota and Nebraska.  Bottled milk and ice cream are available at their farm store.
Wearing so many hats as a small, family-run business can be challenging, as they have taken on everything from production to sales and marketing, and accounting to product distribution. Farm Life Creamery is a Grade A licensed milk plant, so the creamery undergoes a full inspection every three months, and the requirements are the same as for large plants. 
"Inspectors test temperature accuracy on our vat pasteurizer, the cleanliness of everything, how our bottles are stored, our piping, how our cleaning supplies are marked, how our records are kept … all of it," she said.  "We have worked very closely with our inspectors throughout the licensing process."
They also see the direct connection to their customers as a way to share information about dairy farming and agriculture. 
In addition to dairy products, the families offer tours and are making additions for a stop at the store to be a full farm experience.  Holstein calves from the herd are housed on the property along with goats, a pet pig, a horse, mini-pony, donkey, llama, chickens, a Highland calf, farm cats and a very friendly St. Bernard named Rex.  They are planning special activities to celebrate National Dairy Month in June, including a mini-golf course, tractor tire playground and a food truck on site.