Featured Farmer - Dawn Scheier - Salem, SD
Posted: 10/31/2012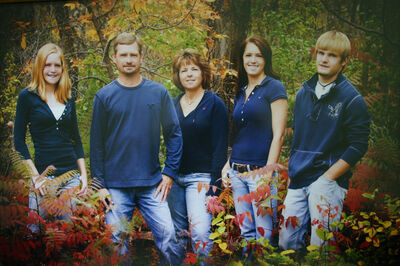 Dawn and Patrick Scheier farm with Patrick's brother near Salem, South Dakota, about 50 miles northwest of Sioux Falls. Patrick is a fourth generation farmer on the land where they raise corn and soybeans.
Dawn is quick to describe her family as a "typical" farm family. They raised three children – Rebecca, Ben and Britt – who are now in their 20s. The Scheier family takes pride in caring for their land, are active in community and church organizations and have held leadership roles in state farm groups.
However, a call from their daughter in college triggered Dawn to get more involved in telling her family's story. Her daughter was in an Economics class when a professor said "you couldn't find a family farmer if you tried." Her daughter stood up and told the class about her South Dakota family farm and spent the rest of the class answering questions about farming and food production.
"It was a wake-up call for me. Our children were very involved in our farm, but never did we teach them that they might have to defend our family's occupation," said Dawn. "There are a number of misconceptions about agriculture and the food we produce. It is important to address those questions with accurate, science based information."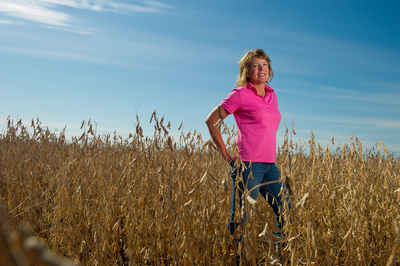 Dawn has become an active volunteer with CommonGround, a group formed to help start conversations about farming and food.
"It is a group of farm women looking to connect with anyone who has questions about the food they purchase and prepare for their families," said Dawn. "We don't want to tell anyone how to shop, but do want to make sure they have accurate information to make their own decisions about food."

Through CommonGround, she has been involved in a number of events in South Dakota, including Mom's Day Out tours, Ag Day at Washington Pavilion, and meetings with legislators and community leaders. She and other CommonGround members answer questions and provide perspective on topics covered by the media through blog posts. She has also traveled to participate in events with food bloggers and editors.

Dawn also created a Facebook page for Scheier Farms so that anyone can follow farm activities year round.
"Harvest is the most rewarding time of the year," said Dawn. "It is a time to be thankful and appreciate that we are able to provide food for our neighbors and people around the world. Even in a difficult and dry growing season like this year, we are thankful for the amount of grain that we were able to produce."
She looks forward to continuing activities with CommonGround and other organizations to tell the story of South Dakota's family farms and the impact of agriculture on the state's economy and rural communities.
"Most South Dakota farms have been owned and operated by the same family for several generations," she said. "We are rooted to the land we farm, and also to our rural communities. We want our local churches, schools, and businesses to survive and succeed."
Check out Scheier Farms page on Facebook here and a recent posting about Food Day on the SD Soybean blog here.