Featured Farmer - Rodney and Dorothy Elliott, Lake Norden, SD
Posted: 9/10/2012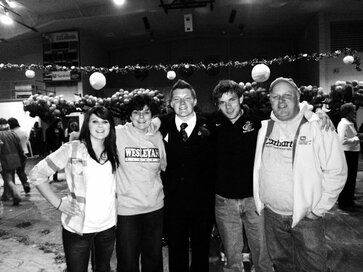 Rodney and Dorothy Elliott moved to South Dakota six years ago in search of new opportunities for their farm and family. They brought along a unique international perspective on agriculture, a passion for caring for their animals, and enthusiasm for supporting their community and industry.
Rodney started farming at 16, and began milking 22 cows at age 18 in his native Ireland. The Elliott family owned a dairy farm in Ireland for 18 years before making a decision to move to the United States. In 2006, they moved to South Dakota and built Drumgoon Dairy in Hamlin County, northeast of Lake Norden. They milk 2,000 cows and also raise calves and heifers on the farm. They raise 300 acres of corn and 100 acres of alfalfa.
The Elliotts had been frustrated by restrictions and hurdles to expand their 140 cow herd in Ireland, but were excited the supportive environment for agriculture in South Dakota.
"Having lived abroad and seeing firsthand how little agriculture is valued in other countries, I appreciate the role that agriculture plays in the South Dakota economy. Here, agriculture is truly respected in local communities," said Rodney.
Like other South Dakota dairy farmers, the Elliotts are proud to help feed a growing population, while boosting their local economy.
"The milk we produce is used to make Kraft brand cheese that is sold around the world," said Rodney. "At the same time, we support local crop farmers by purchasing feed for our cows. Manure from our dairy is also used as organic fertilizer on crop fields in the area."
While the Elliotts are optimistic about the opportunities for dairy production and agriculture, they are facing significant challenges. The drought has limited the amount of forage and feed available for their cows and driven up prices for that feed. In addition, finding employees to milk, feed and care for cows can be difficult.
"It is a constant challenge to build a team of people who share our love and regard for dairy animals and who have the necessary skills to keep our cattle healthy and cared for," said Rodney.
The Elliotts have three children: David is a senior at Dakota Wesleyan University in Mitchell; James is a sophomore at Mount Marty College in Yankton; and Rebecca is a senior at Estelline High School. After moving and beginning operations at the dairy, the family quickly got involved in their community, church, and state dairy groups.
Rodney is a member of South Dakota Dairy Producers, Midwest Dairy Association, and a board member of Ag United. He is a part time advisor to the South Dakota State University Dairy department, sits on a working committee at Lake Area Technical Institute in Watertown advising on large animal science courses, and has been a speaker at dairy conferences in the Midwest and Ireland.
Dorothy is a volunteer with Lake Norden ambulance service serving Hamlin County. She is an advisor to the Hamlin County FSA office and is a committee member for the Central Plains Dairy Expo planning committee. She has also participated in Mom's Day Out tours and other events to reach out to consumers about dairy farming and agriculture.
"Reaching out to consumers is a rewarding part of dairy farming and raising livestock because a diminishing number of people are involved in day to day production agriculture," said Rodney. "Many children believe the milk they drink comes from the supermarket!"
Read more about the Elliott family and their journey from Ireland to South Dakota in this American Dairymen article and watch this video about the Elliott's farm near Lake Norden.