Featured Farmer: Community Supports 4-H Program with New Building
Posted: 8/9/2022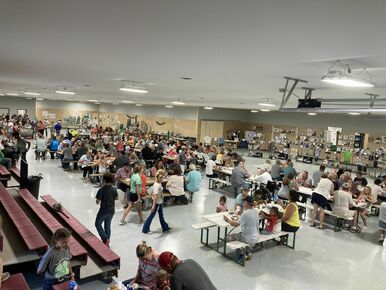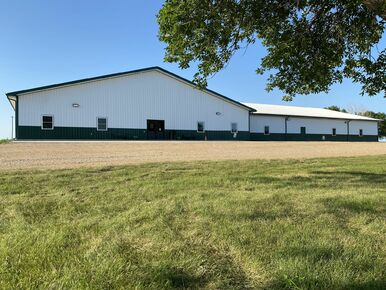 4-H Achievement shows and county fairs are the highlight of the summer for many young people across the state who have spent months caring for animals and preparing projects. These events provide an opportunity to display their projects, share what they learned with judges and celebrate successes with friends and family.  In Grant County, the 2022 Achievement Days was exciting for young people and the entire community as they hosted the first event in the county's new 4-H Complex building.
Sara Koepke, 4-H Program Youth Advisor for Grant County, said the new complex located in Milbank is more than a building.  It represents several years of planning and fundraising and the commitment from the communities to 4-H and extension programming.
Conversations about a new facility on the county's 4-H grounds in Milbank started in 2018, followed by a fundraising campaign and breaking ground in August 2021. The previous 4-H exhibits building had reached capacity as it hosted multiple 4-H events and programs throughout the year as well as the county's food giveaway and community events.  
"We had the final walkthrough June 9 and have been slowly working to get everything into the building," said Koepke.  "We're excited to be hosting Achievement Days here and it will be the first chance that most people in the community will have to see the finished building."
The 4-H complex features a simple floorplan that can be used for a variety of events and programs.  It includes a large multi-purpose area that can be transformed into meeting rooms.  It also has a large kitchen, offices for the county 4-H program, which had been previously located in the basement of the county courthouse, as well as storage.
The project is just $150,000 shy of reaching its $1.8 million fundraising goal, said Koepke.  Gifts of $500,000 each from two major donors – Valley Queen Charitable Foundation and Leo Flynn Estate – provided a strong foundation to fundraising, with the rest of the funds coming from community members, 4-H alumni, businesses and organizations.
"It has been fun to hear from and receive donations from so many 4-H alumni and people who have a passion for 4-H," said Koepke.  "Often donations come with notes or conversations about how they or kids they know have been impacted by the 4-H program and the importance of providing a positive learning environment for young people."
Koepke has been the 4-H program youth advisor in Grant County for nearly 10 years.  She grew up in Litchfield, Minnesota, and was an active 4-H member for 10 years.  She attended South Dakota State University.
"My mom worked in extension while I was growing up, so I had a phenomenal role model," she said. "I grew up in the 4-H program, so to be able to be on the other side of it as an adult is a rewarding experience."
4-H is the largest youth development program in the U.S., reaching almost 6 million young people through extension programs led by 100 public universities across the country.  In South Dakota, 4-H teaches life skills and leadership to youth in four program priorities of Agriculture, Science, Health and Wellness and Leadership.
"The time that young people put into a 4-H program is heartwarming because these kids are building life skills to prepare them for a future career," she said.  "It's allowing them to gain confidence in a positive learning experience through working with animals or participating in Youth in Action events, then take those life skills to be productive and caring citizens as they continue to grow."
The 185 members of Grant County's eight 4-H clubs shared their hard work in the three days of the county 4-H Achievement Days.  The event featured shows and judging of goats, beef and dairy cattle, pigs, sheep, as well as poultry, rabbits and companion animals.  4-H members also brought display exhibits such as foods and nutrition, photography, hobbies and collections, visual arts, child development, and home environment to name a few.  Youth in Action events held earlier featured opportunities to showcase learnings and communications skills in a fashion review, communications and special foods projects.
Koepke said that hosting the 2022 Achievement Days in the new 4-H complex was a celebration for the entire community, recognizing their support of 4-H and youth programs.
"With higher temperatures than usual, our 4-H Achievement Days was great! Our community 4-H BBQ  was able to be held indoors where 550 people from the community enjoyed a delicious meal and camaraderie while being surrounded by the amazing talent of Grant County 4-H,"  said Koepke.