FEATURED FARMER: Clint and Kelly Brandlee named 2021 AgVocates of the Year
Posted: 1/11/2022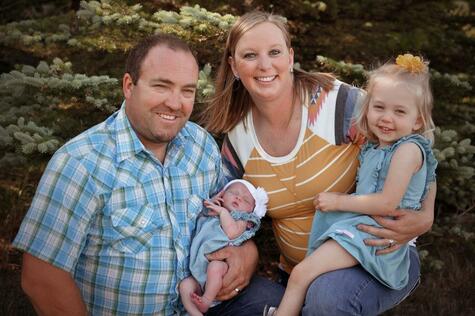 FEATURED FARMER: Clint and Kelly Brandlee named 2021 AgVocates of the Year
Raising cattle, crops and a young family keep Clint and Kelly Brandlee very busy, but they are always finding time to share information about their farm and animals with their community and a larger audience on social media. 
To recognize their work in sharing information about agriculture in their communities, as well as volunteering with Ag United's Adopt-A-Farmer Program and other consumer outreach activities, the Brandlees were named 2021 AgVocates of the Year by the board of directors for Ag United in December.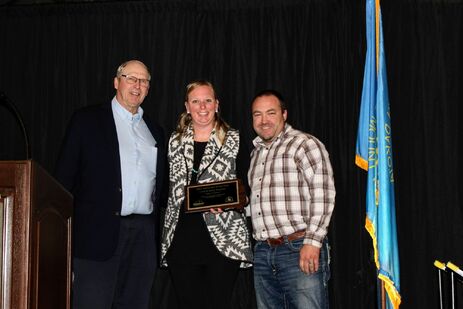 Clint is the fifth generation to farm on his family's land near Pierpont, South Dakota, and Kelly was raised on a farm near Salem, South Dakota.  They currently raise Simmental/Angus cross cattle, corn, soybeans, alfalfa, small grains and cover crops with Clint's parents, Mark and Deb Brandlee.  They have two daughters, Jaycee, 3, and Kylie, 6 months.
Both Clint and Kelly are graduates of South Dakota State University, and Clint began farming in 2004. Kelly is also a member of the Community Relations team at Riverview, LLP, where she hosts tours, school visits, classroom programs and more to connect young people and adults of all ages with agriculture in the communities where their dairy farms are located.
"In all of their work, Clint and Kelly actively share information about how they care for cattle, land and water to help answer questions and build confidence in South Dakota agriculture and food production," said Richard Vasgaard, Centerville farmer and president of the Ag United board of directors.  "We appreciate their commitment and enthusiasm for South Dakota agriculture.
In 2020, Clint and Kelly opened Back Forty Beef, LLC, to bring beef raised on their farm directly to consumers. 
"The idea of selling beef from our farm directly to consumers had been in the back of our minds for years, but the supply issues during the COVID pandemic and having a little extra time when life slowed down due to shutdowns pushed us to give it a try," said Kelly. 
They sell individual cuts or packages at area farmers markets and events, as well as local delivery and shipping options.
"We've gotten great feedback from our beef customers.  People are excited about local food options and interested in knowing where their food comes from," said Clint. "They also enjoy following us on social media accounts to see how we care for animals and what is happening on the farm at different times of year."
The Brandlees share photos and updates on activities at the farm, from planting and harvest of crops to calving, sorting and other activities with cattle. 
"We have all heard the statistics that most consumers are at least three generations removed from the farm, so being willing to share information and show the true face of agriculture is critical today," said Clint. "There are many groups out there painting a negative picture of agriculture, so showing how we are actually caring for animals, caring for the land and focused on producing a healthy food supply is necessary."
Clint has served as an adopted farmer for Ag United for four years, providing monthly updates from the farm with classrooms in Aberdeen and Watertown.  The monthly updates also include quizzes about ag facts and Clint replies to questions that students submit after watching the videos.  Each year, adopted farmers visit classrooms in the spring.  Clint is looking forward to in-person visit this year after virtual sessions in 2021.
"The kids love seeing the ingredients that are in the cattle feed rations, and have a lot of reactions to touching and smelling each ingredient," he said.
The family is active in local organizations and their church, including hosting a live nativity at their farm each Christmas season.
Looking ahead, they are excited about the opportunities that technologies and management practices are bringing to improve how crops and animals are raised to be more efficient and sustainable. 
"It is incredible to think about how the technologies have evolved, we are now using autosteer in tractors, as well as yield monitors, and auto shut-off technologies in sprayers," said Clint.  "I'm excited to see where it continues to go from here."