Featured Farmer - Cheyenne Glade Wilson, Oglala
Posted: 11/12/2013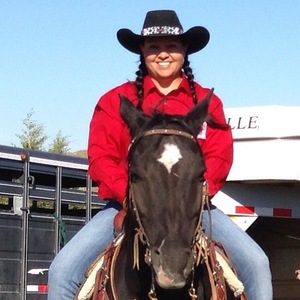 Cheyenne Glade Wilson shares her love of ranching, rodeo and the rural life with thousands of people around the country.
Cheyenne and her husband Shane are fourth generation ranchers that own and operate a cow/calf operation. They run mostly black Angus and Black Angus Cross cattle and put up their own hay on the Pine Ridge Reservation near Oglala, South Dakota. Cheyenne is an enrolled member of the Oglala Sioux Tribe. Cheyenne and Shane have a five year old son, Stone, and they ranch across the road from her parents, Cliff and Lila Glade.
She also owns Cowgirl Swank, where she creates western and rodeo fashions that she sells in a store in Chadron, Nebraska, and online. The business started in a small office on their ranch in 2007 and has grown as her designs have grown in popularity, including being named a 2012 Top Online Boutique by Rodeo Fame magazine.
The family enjoys competing in ranch rodeos and stray gathering events. Cheyenne is an advocate for the Women's Ranch Rodeo Association and is involved in efforts to start a local chapter of the association. She is on the committee for the Ranchers Relief Fund to support ranchers who were impacted by the Atlas Blizzard last month. They are organizing events for the Black Hills Stock Show.
Cheyenne grew up on a ranch, then left to live in the city for quite a few years, but always stayed connected to the family's ranch.
"I always came back to help at crucial times during the year like branding and shipping," she said. "I never lost touch with my roots and deep down I always knew this is where I would end up."
She appreciates the opportunity to raise her son on the ranch and provide him many of the same life lessons and experiences that she and Shane had.
"I find it all rewarding. I love working hard with my family for our way of life. It is so rewarding to birth a calf and then watch it grow until we ship them off in the fall," she said. " It's important to grasp the circle of life and to hold it close to you. I think that is why agriculture people are so down to earth and caring."
Dealing with Mother Nature has always been one of the biggest challenges for farm and ranch families, especially as many ranchers in western South Dakota are recovering from the October blizzard.
Cheyenne also sees the positive impact that ranch and farm families have in their local communities.
"We provide a good deal of the revenue in our local cities/towns, as well as providing a source of locally-grown beef and vegetables," she said.
Through the Cowgirl Swank business, she has the opportunity to advocate for the ranching way of life through emails, Facebook, and on the phone.
"People admire our way of life and we have many "Swank Fans" near and far," she said.