Featured Farmer - Carl and Kari Sanders, Oral
Posted: 1/15/2013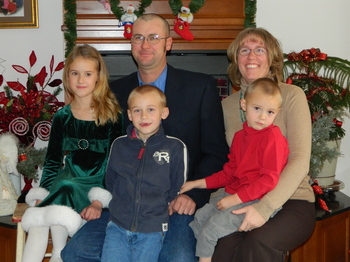 Carl and Kari Sanders are not only carrying on their families' farm and ranch heritage in western South Dakota. They are also working to ensure that the next generation of South Dakota children understand how livestock are raised and cared for in our state.
Carl and Kari raise cattle and crops near Oral, South Dakota, about 60 miles south of Rapid City. Carl is the fifth generation of his family to farm and ranch in Fall River County, and Kari grew up on a farm near Wessington Springs, South Dakota. They both helped on their families' farms caring for livestock, doing chores and operating farm equipment.
After graduating from South Dakota State University in 2000, the couple married and moved back to Oral and leased a ranch neighboring Carl's parents. They are in the process of purchasing the ranch they are leasing, and also help Carl's father operate his farming and custom farming operation. A few years after moving back to the ranch, they purchased land where they raise irrigated crops as well as
The Sanders have three children: Megan (8), Kyle (6), and Ray (3).
Carl and Kari have always been active in community groups, and three years ago, they saw an opportunity to reach out to students in the Hot Springs school district. Working with other farmers, ranchers, and colleagues from Kari's job at the USDA's Farm Service Agency, they started an "Animal Day" at the Hot Springs Elementary School.
The event was popular with students and teachers, and has become an annual event.
Each year, more than 300 students from preschool can meet a variety of animals – cattle, horses, pigs, sheep, rabbits, chickens, llamas, cats and dogs – at stations and learned firsthand how they are cared for.
Kari also works to make the connection between the animals and the food that children eat.
"I brought a carton of eggs that were laid by our chickens, and the kids were amazed," she said. "I'm hoping to have more examples like that of products that kids eat or use every day that come from farms and ranches."
They also emphasize that agriculture is an important part in South Dakota's economy.
"Agriculture is very much a part of the South Dakota economy in many ways: from the agricultural producers to the truckers on the road hauling our product, to the grocery stores selling the end result," said Kari. "We support our local communities through purchasing fuel, parts, supplies, and equipment. There also is a large number of people employed in sales or services for agriculture, not to mention the property taxes we each pay in our counties."
For the Sanders, knowing that they've been trusted to care for their livestock and land is the most rewarding part of ranching. They've also seen several other young families become engaged in farming and ranching, so are excited about the future for farm families in South Dakota.
Carl has served in a number of ag and community organizations, including regional vice-president of the South Dakota Cattlemen's Association, past chairman of the Angostura Irrigation District, and past chairman of the Board of Trustees Prairie View United Methodist Church.
Kari is currently participating in the South Dakota Ag and Rural Leadership (SDARL) program, and is a member of the Hot Springs Chamber of Commerce Ag Committee.