Featured Farmer: Andrew Jensen
Posted: 6/13/2022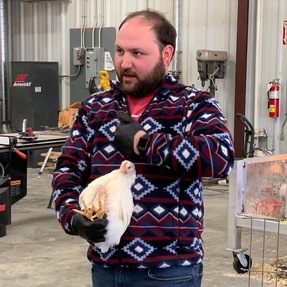 While students in the Sioux Falls school district are on summer vacation, one of the district's newest teachers is working to build new curriculum and learning opportunities for students in the fall semester.   In spring 2022, the district announced that agricultural education classes will be available with the addition of the Agriculture, Food & Natural Resources Career Cluster at the Career and Technical Education (CTE) Academy beginning this fall.
Andrew Jensen will serve as the district's first agriculture education teacher and FFA advisor, and is excited about the opportunities that the new program will provide to students in the state's largest school district.
"The most exciting part about ag education is giving students that haven't grown up in production agriculture the opportunity to see how food is produced," he said.  "Students learn where their food comes from, and it makes them better consumers.  We're not only creating better students for an agriculture and food chain workforce, we're creating better consumers who have a better understanding of agricultural practices."
The agriculture program in Sioux Falls is being built around core areas, including agricultural biotechnology, animal science and pre-veterinary science, horticulture and landscaping, natural resources, and ag leadership. 
Jensen notes that the programs will be tailored to provide students without experience in production agriculture exposure to many segments in the agriculture industry, including some coursework tailored to an urban setting, such as growing microgreens in the greenhouse or learning about small animal and companion pets in animal science.   
Students will also learn about the wide variety of careers available in agriculture, especially as technology is quickly changing and providing new tools for farmers to increase productivity while providing better care for animals and protecting natural resources.
"Agriculture is our state's leading industry and a key part of the Sioux Falls economy," said Jensen.  "Providing an opportunity for Sioux Falls students to learn more about the wide range of careers and jobs in agriculture will position them for success in their future."
Jensen grew up on a small family farm near Wakonda, South Dakota, where the family raised stock cows, hogs and crops.  He was very active in 4-H at his club, county and state levels. He attended South Dakota State University and earned a degree in General Agriculture, with plans to work in the Extension Service and with 4-H programs.  In his role with South Dakota Extension, working with students in fourth grade classrooms sparked an interest in teaching, and he pursued alternative certification to be a teacher and then completed education coursework.
"Becoming an ag education teacher was the best decision I ever made," he said.
Jensen comes to Sioux Falls after serving as ag education instructor and FFA advisor at Chester Area School District for six years and at Stanley County in Fort Pierre before that.  
He is also excited about the addition of the FFA program at the CTE Academy.  The Sioux Falls CTE Academy FFA Chapter has already been chartered for the 2022-23 year.
"There is a place for everyone in FFA," said Jensen.  "FFA sets itself apart from other student organizations because students can build public speaking, communication and leadership skills as well as focusing on specific areas that they want to learn and compete in."
Jensen said the Sioux Falls program will follow the "3 Circle Model of Agriculture Education" which includes FFA, classroom instruction, and Supervised Agricultural Experience (SAE).  FFA members can compete in a number of Career Development Events (CDE) ranging from livestock evaluation and agronomy to agricultural business management to food science and technology, or Leadership Development Events (LDE) that include public speaking, ag sales, communications, parliamentary procedure, and more.
"Even if a student doesn't pursue a career in agriculture, employers love to see FFA on a resume because they know it means students have developed a work ethic, as well as communications and leadership skills," he said.