Featured Allied Partner - South Dakota Soybean
Posted: 2/14/2014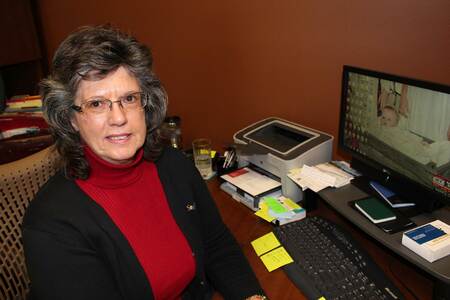 Small Soybean. Big Impact.
Soybean production has become an increasingly important part of South Dakota farmers' crop rotation and the crops they raise are essential to the state's livestock producers and economy.
Betty Fyler has seen this growing impact and a number of changes in the industry in her roles with South Dakota Soybean Research and Promotion Council (SDSRPC) and the South Dakota Soybean Association (SDSA). For the past 17 years, Betty Fyler has worked to tell the story of South Dakota soybeans to the state's consumers and to provide information and resources to help the farmers who grow the crop.
The South Dakota Soybean Research & Promotion Council (SDSRPC) and the South Dakota Soybean Association (SDSA) — are sister organizations designed to support South Dakota soybean growers. The two groups are funded and governed separately, but share administrative resources and are united in the overarching goal of helping South Dakota soybean growers thrive. The South Dakota Soybean Research & Promotion Council is the farmer-led organization charged with investing & leveraging checkoff dollars on behalf of South Dakota soybean farmers. South Dakota Soybean Association (SDSA) is a grassroots, farmer-led organization. Because the soybean checkoff is prohibited by law from lobbying, SDSA works to ensure that sound policies are in place to enhance the future of soybean farming.
Betty joined South Dakota Soybean Research & Promotion Council as a consumer educator in 1997. She concentrated efforts on soyfoods education, promoting soy crayons, candles and other new uses of soy. The group also invested in 400 Soybean Science Kits that were distributed to almost every school in South Dakota.
"It was a hands-on educational resource for elementary children that contained all the supplies and directions needed to perform 18 science experiments enabling children to learn about the many uses of soy," said Betty. "I conducted teacher workshops and other programs to encourage the use of the kits in the classroom."
In 2004, Betty became the Program Director for South Dakota Soybean. She took on a number of activities, including organizing the annual AgOutlook Conference and Tradeshow, conducting biodiesel education events, organizing activities for the soybean tent at DakotaFest. The focus of consumer outreach programs has changed to providing information about biodiesel and the important role of soybeans in feeding livestock and poultry.
"Over the years, doctors and health professionals began to promote the benefits of soy in healthy diets on their own, so I was able to focus on other areas of soy uses and promotion," said Fyler.
She also led the development of the state soybean yield contest, which recognizes top growers and helps gather best practice information for soybean production. The average yield for soybeans produced in the state was 40 bushels in 2013, however farmers who entered the SD Soybean Yield and Contest in 2013 achieved average yields of 60 to 80 bushels, with the winner harvesting 88 bushels per acre.
New technologies and improved management practices have allowed South Dakota farmers to improve production and efficiency, and better preserve land and water resources.
"Technology has played a huge role in the changes farmers have made when growing soybeans," said Betty. "It is amazing to see some of the new precision agriculture tools in action and the information that farmers can receive. When I started 17 years ago, I did not even imagine we would have such capabilities."
Soybeans consist of two components – soybean oil and protein-rich soybean meal. Soybean meal makes up about 80 percent of the soybean and is primarily used to feed livestock that provide the world's poultry, pork, beef, dairy and fish. In fact, international markets use about half of the soybeans produced in the U.S., with China as the number one export market.
Betty grew up on a farm near Lake Preston and graduated from South Dakota State University with a degree in Home Economics. She worked as the Home Economist for Sunshine Food Markets for 21 years before starting with South Dakota Soybean. She and her husband, Jerry, have been married 38 years and are planning to spend some time traveling to warmer parts of the U.S. during the winter and camp and fish during the summers.
For all of us at Ag United and South Dakota Farm Families we wish Betty the best as she starts a new chapter in her life.