Posted: 2/3/2014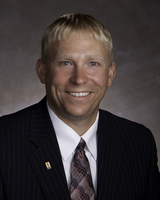 We're taking a different approach this month to the Featured Farmer profile. In addition to telling the stories of South Dakota farm families, we'll also feature some South Dakota businesses that serve farmers and help strengthen their operations and rural communities. Our first "Featured Partner" is Nate Franzen, president of the Agri-Business Division of First Dakota National Bank, based in Yankton.
It is no secret that farming, like all businesses, has changed and adapted over the years. Farmers have adopted new technologies and management practices to care for their land and animals, and produce even more food for an increasing population. They've also become better business managers, watching their bottom lines and managing expenses at the same time they keep an eye on their fields and barns.
An important partner for farmers and ranchers today is often their bank or financial institution. From traditional services like operating loans and checking accounts to business planning, investment management and succession planning, agriculture bankers can play a critical role in the success of today's farm families.
First Dakota National Bank has a long history of serving agriculture in the region. In fact, it was the first bank chartered in the Dakota Territory in 1872. Over the years, it has undergone growth and change, just like many of the farmers and communities it serves. As announced by the American Banker June 2013 publication, First Dakota is ranked as the 2nd largest Community Ag Bank with the largest farm loan portfolios in the United States. It is a privately owned community bank with majority ownership by the Ness family. Several family members are involved in bank management and operations today.
Nate Franzen has worked at First Dakota for 15 years, serving as president of the Agri-Business Division for the past three years. Nate and his wife, Michelle, have two children. He grew up on a farm near Langford, South Dakota, and has been involved with agriculture his entire life.
"Agriculture makes up a small percentage of the country's population. For that reason, many large banks consider agriculture a niche market. We are committed to serving the farmer customers," he said. "We work hard to be on the short list of banks that fit the category of being committed to agriculture and demonstrate that commitment to farmers year in and year out."
First Dakota has 16 bank locations in 12 South Dakota communities in addition to 3 loan production offices in South Dakota and 3 loan production offices in Nebraska. The Bank has over 275 employees committed to serving their communities and region. Approximately 50% of the Bank's business directly serves the agriculture industry.
First Dakota recognizes the need for farmers and ranchers to not just improve their management skills on the farm, but in the business side of the operation as well. They've introduced several programs designed to strengthen management skills and education, Franzen said.
The Beginning Farmer Program is a year-long educational program for young farmers to build a knowledge base to manage their businesses. Sessions include seminars and meetings in South Dakota and a trip to Chicago and Des Moines to visit the Board of Trade and DuPont Pioneer Global Headquarters.
"The goal of the program is to expose and broaden young farmers' horizons to sharpen their management skills to successfully operate their farm or ranch well into the future," he said. "It is important to have a well-trained next generation of farm managers."
First Dakota is also working to better assist farmers with strategic planning and succession planning. Just like any other family business, farm families have a wide variety of factors to consider when bringing a new generation of family members into the business.
"We work to help families deal with not just the legal paperwork for succession planning, but more importantly, the underlying issues or challenges that they face. We help them identify the goals of all stakeholders, develop a long-term plan for the business, and ensure that those plans are communicated to everyone involved. This helps ensure the legacy of today's family farms," he said.
"Successful agriculture is critical to vibrant rural communities," said Franzen.
"We saw the importance of a strong ag economy in 2008 when the overall national economy struggled. Many parts of South Dakota and the Midwest didn't experience the same level of problems that other parts of the country did because the agriculture economy remained strong and supportive," he said.