Farmer's Daughter Blog Post: "Summer 2018 Recap"
Posted: 8/20/2018
Farmer's Daughter Segment: " Summer 2018 Recap"
 Hello Everyone! My name is Katie Schoenfelder and I am a Farmer's Daughter! 
 I can hardly believe that school is starting and the summer has already come to an end. Cheesy as it may be, the line: "time sure does fly when you're having fun" truly did apply; because this summer has been crazy busy and was gone in the blink of an eye.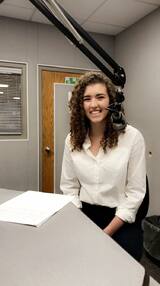 To be completely honest I was a little nervous coming into my internship. This was my first summer away from the farm; I am use to working in the fields during the summer and being outside all day. I wasn't sure how I would like working in the big city of Sioux Falls or having an office job. Looking back, I am so glad that I took the internship that was outside of my comfort zone.  
I gained so many experiences, friendships, memories, and learned so many new things. A big part of my internship was getting to work with the South Dakota Dairy Producers and Midwest Dairy. I have no background in the dairy industry, so even though I grew up in agriculture this was a big learning curve for me. I have so much more respect for those hardworking individuals in the dairy industry. I have to give a big thank you to all of the families who opened up their family farms this summer.  Here is a little recap of some of the events I did this summer.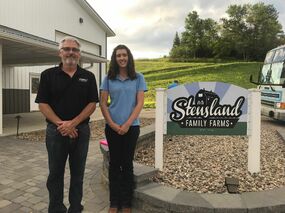 May is National Beef & Eggs Month, and we kicked it off by heading West River for the Rapid City Beef Crawl. Then came school visits, the South Dakota Poultry Producers meeting, and a lot of prepping for the upcoming events.  
June is National Dairy Month, so we kicked it off with the Brooking's Dairy Fest.  Old Tree Farms near Volga hosted the first open house; then came MoDak Dairy Day near Kransburg, Breakfast on the Farm at Royalwood Dairy near Brandon, the South Dakota Corn Golf Tournament, the Know Your Milk Tour, the Farm to Table Dietician's Tour, and the Boadwine Dairy Open House near Baltic.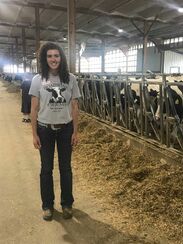 July is National Ice Cream Month and we didn't slow down one bit! The Lazy J Dairy hosted their open house near Wolsey, which was followed by the South Dakota Farm Bureau Sioux Falls Canaries Baseball Game, the Scoop It Forward Event in Sioux Falls, Farms After Five Tour, Hefty Field Day near Baltic, and Family Fest in Sioux Falls.  
August is National Back to School Month, but we squeezed in a few events before that came. We kicked it off with the Tri Cross Dairy Open House near Viborg, the Sioux Empire Fair, and the Turner County Fair.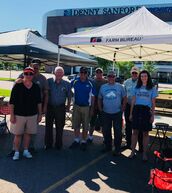 Throughout the summer I have also got to run social media accounts, develop web content, and write several blog posts and record radio segments. My favorite part of the internship was definitely being able to work with farm families to help tell their story and engage with consumers. I may not have been out on the farm everyday but I was still involved in agriculture. Stepping out of my comfort zone wasn't easy, and I didn't know everything, but I am learning and loving my journey every step of the way.
As I sign off for the last time, I just want to remind you to take leaps of faith, say thank you to farmers, and have a wonderful year! 
 Lots of love, 
Katie Schoenfelder – A Farmer's Daughter
P.S. Thank You:
- Mom & Dad & Gracie
-Steve, Rebecca, Tom, & Chris
- Verpallen Family
-Moes Family
- Ode Family
- Stensland Family
- VanDerVleit Family
-Boadwine Family
- Jungemann Family
- Burkhart Family
- Blysma & Koolhaas Families 
Did you miss out on hearing me on this week's Farmer's Daughter?
Listen to it here: SD Farm Families - Farmers Daughter Aug20th.mp3
 Be sure to tune in each week during the "It's Your Agribusiness" show on Monday's at 10am on KELO 1320 AM and 107.9 FM