Farmer's Daughter Blog Post: Just How Far We've Come
Posted: 7/17/2018
Hello everyone! My name is Katie Schoenfelder and I am a farmer's daughter. 
 I recently went home for the Fourth of July and it was an absolute blast. It was so nice getting to see everyone, catch up with family and friends, and just be out on the farm.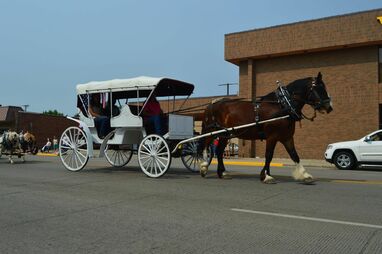 Now my family usually celebrates Independence Day by haying. However, my mom loves horses, especially draft horses; so, for the last few years we've also celebrated by doing a few 4thof July Parades in addition to the usual tradition of cutting, raking, baling, and hauling hay.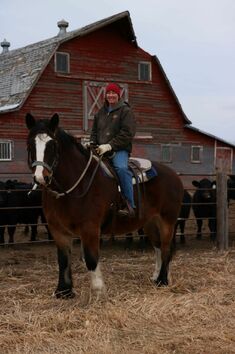 On our farm we have two draft horses, Buddy and Sugar. They are a lot of work, but also a lot of fun. It is really neat getting to experience riding in a wagon that your grandfathers built by hand or riding in carriages and wagons of days gone by. We also have a covered wagon, but we usually pull that with the pickup truck or a 4-wheeler.
Growing up with these experiences has given me a greater appreciation for both the hard work of the past, as well as all the technology and advances in modern agriculture. Being able to imagine doing a lot of the work we do now with only horses or by hand; or traveling across the open prairie in a covered wagon makes a girl really thankful to be living now.  
Those in agriculture have come a long way, but they still have a long way to go. According to the American Farm Bureau Federation: 
"One U.S. farm feeds 165 people annually in the U.S. and abroad. The global population is expected to increase to 9.7 billion by 2050, which means the world's farmers will have to grow about 70 percent more food than what is now produced."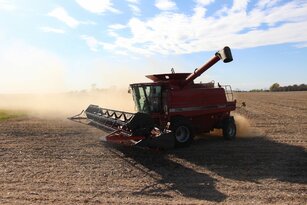 Advances in agriculture are so important and with such a big challenge ahead of us; agriculturists across the world will need to continue to improve. While farming has become more efficient, that doesn't mean that it is easy to make it. Farming is hard work and can take a lot a faith to make it through the hard times and wisdom for the good times.
According to the American Farm Bureau Federation: 
"Farmers and ranchers receive only 15 cents out of every dollar spent on food at home and away from home. The rest goes for costs beyond the farm gate: wages and materials for production, processing, marketing, transportation and distribution. In 1980, farmers and ranchers received 31 cents."
While the challenges of the future may seem daunting, it can be helpful to look to the past in order to see the future clearly. Looking back, you'll come to realize that farming and ranching has never been easy, mother nature will always have a curveball to throw, and the future has always been uncertain and full of challenges, but we've always found a way to make do and make it better. Farming and ranching is just as much about having the wisdom to manage and improve as it is to be strong and face another day in the sun. As a farmer's daughter I encourage you to get out, be curious, create, and find solutions to help feed the world.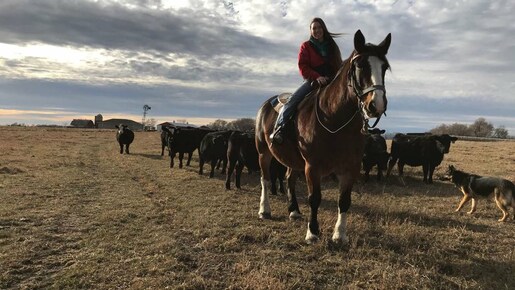 Learn more here:  
https://www.farmflavor.com/at-home/cooking/farm-facts-the-united-states-farmer/
https://www.fb.org/newsroom/fast-facts
Did you miss out on hearing me on this week's Farmer's Daughter?
Listen to it here SD FARM FAMILIES - 7 16 18.mp3
Be sure to tune in each week during the "It's Your Agribusiness" show on Monday's at 10am on KELO 1320 AM and 107.9 FM