Farmer's Daughter Blog Post: Antibiotics & Hormones in Beef
Posted: 7/9/2018
Hello everyone, my name is Katie Schoenfelder and I am a farmer's daughter. On my family's farm we have a  cow-calf operation where we raise Simmental-Angus cattle. 
I absolutely love beef; it's one of my favorite foods. Honestly, you can't do much better than a nice juicy steak at the end of the day. One of the things that makes me so proud to be a farmer's daughter is walking into the grocery store and seeing all of the food that my family and other farm families have worked so hard to produce.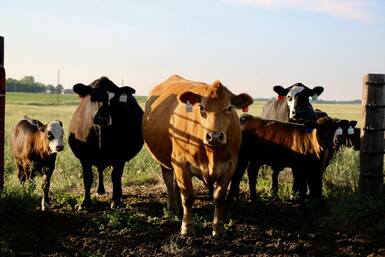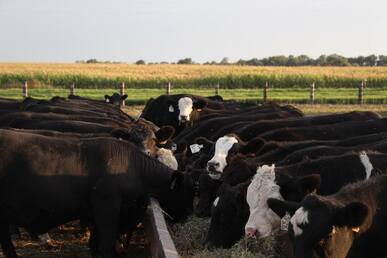 As you walk into the grocery store you will usually get a couple of feelings, the first one is probably hunger, because food is delicious. The second one might just be confusion when you start to read the labels on packages: "Natural", "Healthy", "Non-GMO", " No Added Hormones", "Raised without Antibiotics"… the list goes on and on. There are a lot of misconceptions about agriculture and one of the reasons is because of how our food is marketed. When you walk down the meat aisle you'll notice a few key buzzwords when you read the labels. Some of the biggest concerns people have when they think about beef are the use of antibiotics and hormones. Don't let the labels fool you, it is important to know that if meat is on the shelf it is always free of antibiotics and is safe to eat.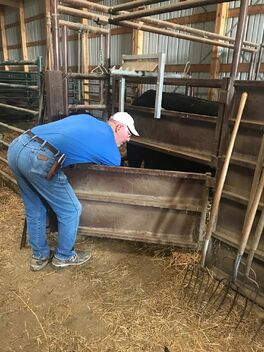 Farmers and ranchers take the utmost care regarding how their cattle are raised. The USDA (United States Department of Agriculture) has strict rules and regulations that farmers, ranchers and processors must follow. In cattle, antibiotics are only given to prevent, treat, or control disease. According to the FDA, 71% of antibiotics used for animals are not used or rarely prescribed in humans, and growth promotion uses of medically important antibiotics in feed and water have been eliminated; these products are only used to treat, prevent and control disease under oversight of a veterinarian. 
Just the other day at our farm we had a cow get hurt so we took her to the vet right away. The veterinarian made sure the wounds were cleaned and prescribed some medicine, which included a round of antibiotics. We took her home and are keeping her in the barn until she is all healed up, and before long she will be back out on the pasture happy as a lark. Being able to use antibiotics as a tool for our animals is wonderful. It is important to note that all medicines have a withdrawal period, which means that producers can't sell that animal to market until the withdrawal period is over and the medicine is completely out of their system.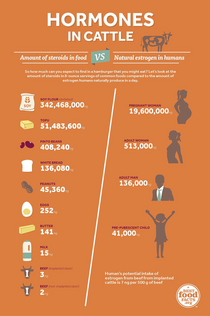 Hormones are also sometimes used in cattle to make them more efficient. Implants can be used to encourage the increase of naturally occurring hormones to increase gain and yield in cattle. Implants are just a tool that farmers can use to be more efficient on their operations. Hormones don't affect the quality of the beef and it is always safe to eat.
 Farmers and ranchers love what they do and keeping animals happy and healthy is a priority.  So the next time you reach for a juicy steak enjoy it, knowing it has been produced with a lot of hard work, passion, and with safety in mind. 

To learn more about how your food is produced visit:
https://www.beefitswhatsfordinner.com
Did you miss out on hearing me on this week's Farmer's Daughter?
Listen to it here SD Farm Families - Farmer's Daughter July9th.mp3
Be sure to tune in each week during the "It's Your Agribusiness" show on Monday's at 10am on KELO 1320 AM and 107.9 FM