Farmer's Daughter - State Fair! 8.25.14
Posted: 8/26/2014
The South Dakota State Fair is just around the corner, and for most people that means great food and midway rides. In this week's Farmers Daughter radio story, I talked about my perspective of the state fair, which is all about 4-H. Click below to listen to this week's segment.
FARMERS_DAUGHTER-STATE_FAIR_8.25.14.mp3
I started 4-H when I was just eight years old, and I was active in this organization for the next ten years. When I was in 4-H I tried just about every project area from photography to showing cattle. The State Fair was my time to put my skills to the test and see how much I had learned that year. My family and I stayed on the fairgrounds in a camper, and each day started with washing, feeding, and walking my 4-H calves. Then I rushed off to whatever activity the day had in store. During State Fair I could be found preparing a meal for special foods, participating in a photography judging contest, getting ready for showmanship with my calf, or even giving a speech.
This year's state fair will be extra special for South Dakota 4-Hers: 2014 marks a century of 4-H serving the state's youth, with about 9,000 young people participating in 4-H programs this year. The programs have evolved over the years and range from livestock and crop production to robotics, photography, food science, citizenship, leadership development and shooting sports. South Dakota 4-H relies on more than 1,500 registered 4-H volunteers statewide to help young people with developing projects, judging and mentoring throughout the year.
Governor Dennis Daugaard, himself a 4-H alumnus, recognized the role of 4-H in his own youth as well as for developing strong leaders and communities for our state. In his May proclamation recognizing the program's 100th anniversary, he wrote:
"Each week, all over South Dakota, groups of boys and girls gather in community centers, living rooms, church fellowship halls and school gymnasiums, where they recite a pledge. It goes, in part, "I pledge my head to clearer thinking, my heart to greater loyalty, my hands to larger service and health to better living...The four simple phrases invite our children to embrace an attitude of thoughtful service, a source of great pride for many South Dakotans."
So this year when you're at the State Fair, take a moment to walk through the 4-H buildings to check out all of the great projects 4-Hers have been working on. Check out programs available in your communities at igrow.org/4h/.
Pictures of some of my 4-H projects through the years: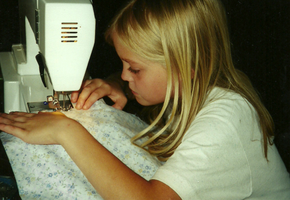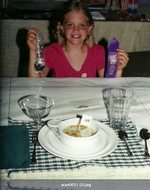 Left: Sewing a pillow case Right: Purple ribbon for Special foods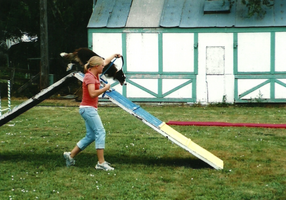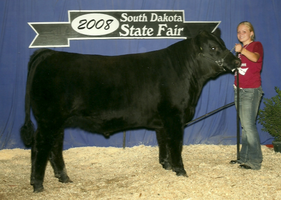 Left: Competing in agility with my dog Right: Showing my steer at the state fair.